Write a note on energy efficiency in intelligent buildings
Until recent years, energy intelligent buildings efficiency has been a relatively low priority and low perceived opportunity to building owners and investors.
However, with the dramatic increase and awareness of energy use concerns, and the advances in cost-effective technologies, energy efficiency is fast becoming part of real estate management, facilities management and operations strategy.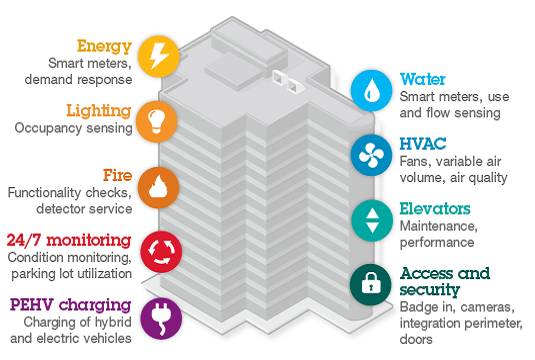 The concepts are also now making significant inroads into the domestic residential house building sectors.
For lighting, energy savings can be up to 75% of the original circuit load, which represents 5% of the total energy consumption of the residential and commercial sectors.
Energy savings potential from water heating, cooling, or hot water production, can be up to 10%, which represents up to 7% of the total energy consumption of the domestic residential and commercial sectors.
Experiences from studies in Austria suggest potential heating and cooling energy savings are up to 30% in public buildings.
Even allowing for the fact that buildings used in the study may have been those with particularly high energy usage, the figure is an impressive one.
(Source: EU2 Analysis and Market Survey for European Building Technologies in Central & Eastern European Countries – GOPA).
Energy efficiency of smart buildings free pdf download button below
What are the different types of automatic fire alarm system? Discuss in detail
Automatic fire alarm system design generally divided in three forms:
regional fire alarm system,
central fire alarm system and
alarm system control center.
On Intelligent Building Basic characteristics of the alarm system control center is most appropriate manner.
Intelligent building fire alarm systems in the design points are: the object to be protected under the fire burning characteristics to determine.
When the fire type: according to the required protection area sites; according to the total number of fire detectors and other alarm devices (such as hand report) to determine the number of Fire Alarm.
The total capacity of the controller; according to the regional locale broken alarm controller; under the fire-fighting equipment to determine linkage control; by fire alarm and fire fighting requirements determine the linkage of the logic.
1. Fire detector design matching Fire detector is the automatic fire alarm system is divided into objects by detecting smoke detector, heat detectors, smoke sensitive fire detectors and fire temperature composite gas fire detector.
It can be divided according to their measurement and control range for the point-type fire detectors and linear fire detectors into two categories.
Point type fire detectors can only around a point guard in the range of temperature, smoke and other parameters to control, such as point-type lon Smoke Detector.
Point-type purple flame of fire detectors, point-type heat fire detectors, linear fire detectors can range in a line on the alert around the smoke, temperature probe, such as IR Beam line of fire detectors, laser linear fire detectors, cable-type linear heat detectors and so on.
Intelligent Building Smoke detectors should be used mainly for individual use smoke detector should not place heat detectors should be used.
1.2 points detection area detector set
Standard requirements: fire detection region generally divided into separate rooms for each room within the detection area should be set at least one detector.
In the open or closed stairways, fire elevator room, walkways, ramps, pipes well, boring roof, mezzanine and other places should be a separate division of the detection area.
Set the corresponding detector, interior door open and the light display device A large room can be divided into detection region, but cannot exceed the maximum area of 1000m2.
In addition, fire detectors in the set when the intelligent building should also be considered within the aisle width, the distance to the side wall to side wall beam distance, air-conditioning.
FIRE DETECTION AND ALARM SYSTEM FREE PDF DOWNLOAD BUTTON BELOW
Give the different example of Intelligent Building with their detail
Following are the examples of Intelligent Buildings, which are built:
The Sunset Millennium Building in Hollywood, Calif. – The 20-year-old building tackled the problem of an inefficient carbon monoxide monitoring system by installing 41 LonWorks sensors to keep its fans from running continuously. Previously, the building owner was paying about $242,000 to keep the fans for the monitoring system running 24×7. LonWorks has helped reduce the electricity consumption by 90 percent.
Connolly Middle School in Tempe, Ariz. – Built in 1972, the school adopted a climate control retrofit that was automated with LonWorks, providing more control over temperatures, carbon dioxide levels and so on. The system saved an estimated $58,000 in electricity costs in the first six months.
1120 Vermont Ave. in Washington, D.C. – The 20-year-old Northwest building was outfitted with 700 programmable controllers that are linked to the LonWorks network management tool to control the chillers, pumps, cooling towers, boilers and generators inside. The annual savings in energy consumption is $500,000.
Discuss the detail of Connolly Middle School, an intelligent Building
Connolly Middle School, built in 1972, is typical of many schools of this era that are struggling with the management of aged mechanical systems pieced together with an array of add-ons and repairs.
Connolly Middle School was not providing the comfort and air quality desired for a learning environment nor did they meet the energy efficiency expectations of a modern facility.
The School's campus consists of 184,034 sq ft of conditioned spaces arranged in 6 separate buildings. Each building has separate mechanical systems including centrifugal and reciprocating chillers along with multi-zone, VAV and constant volume air handling units all served with electric heat.
Write a note on energy efficiency in intelligent buildings
Control systems were comprised of a mixture of pneumatic and stand alone DDC. Without any and monitoring, the aged HVAC system was running centralized control inefficiently resulting in numerous comfort complaints.
In an effort to streamline the process and to ensure that the School received a solution that met their needs and budget, the school's management elected to pursue a design build process with a selected group of HVAC contracting firms.
This acquisition process provided for a quick and thorough assessment of the facility's needs with detailed proposals, allowing them to make the best choice of contractor and BAS solutions.
The School management selected the proposal of Source Refrigeration & HVAC, a Distech Controls Open System Dealer.
The solution focused on the air side system and controls as the areas that would provide the greatest improvement in environmental air quality and comfort and reduction in energy consumption.
The evaluation of the central chillers, cooling towers and pumping systems, concluded that these systems, other than lacking good control, were basically solid, efficient systems.
Source Refrigeration & HVAC thus designed a system retrofit that entailed the replacement and modernization of all of the air side equipment, including:
Installation of 60 VAV boxes
Installation of an energy recovery wheel to precondition the outside air
Repairs and cleaning of AHUS and duct work
Valve replacement and repair
Installation of variable frequency drives on all major AHUS
The building automation system installation using Distech Controls easyCONTROLS LONWORKS® solution comprised a total of 650 points and 112 controllers. The control system included:
Central plant control using ECU-88, EC-12 (LONMARK® certified programmable controllers)
AHU control using EC-12 and EC-8 and EC-67 (LONMARK certified programmable controllers)
85 VAV controls using EC-VAV-L (LONMARK certified configurable controllers)
Rooftop unit control using EC-RTU-L (LONMARK certified configurable controllers)
BTU meters
Lonwatcher LONWORKS network management tool
Programming using LNS® based plug-in for configuration and custom
programming
User interface Web browser access as well as scheduling, trending, alarm management and normal user adjustments using an Echelon® i.LON® 100.
There were several key factors required for the control system that the BAS solution delivered on, such as:
Provide for programming flexibility to insure that the necessary sequences could be obtained
The ability to monitor and control the CO2 levels for air quality and energy efficiency
Provide for precise comfort levels with user adjustment
Web browser access and control to all points within the system with a custom designed, simple to use interface
Provide a completely open system from controllers to software tools BENEFITS Connolly Middle Schools now has the exceptional environment air quality the students need for learning and a substantial reduction in energy and maintenance cost.
The energy savings for the first 6 months was over $58,000, a 34% reduction of historical costs
Why Intelligent Buildings are safer than Conventional Buildings
Intelligent buildings are safer than conventional buildings Insurance companies will recognize that certain intelligent building features reduce operational risks related to water leakage, flooding, and fire.
In addition, early detection and automated responses can minimize secondary impact of water and fire damage.
This should be reflected in lower property and casualty insurance premiums than for comparable, conventional buildings.
The combination of wireless sensors and real-time monitoring permits managers to detect and respond to problems as they occur In conventional buildings.
problems such as leaking toilets may go unreported for extended periods, and damage compounds.
This can cause secondary damage if a problem occurs when the facilities staff unavailable, such as during evenings, weekends, or holidays.
In a connected building, if the system detects a leak, direct digital controls such as an automated ball valve upstream of the problem could shut off water to that zone, Wireless environmental monitoring systems could also track dampness and temperature in parts of buildings where conditions could lead to mold growth.
RFIDs can be equipped with sensors to detect the volatile organic compounds that are produced as mold forms.
The combination of wireless sensors and a BAS allows managers to promptly act on the information, reducing risk and associated remediation expenses. Similarly, integrated BAS systems improve security and life safety functions.
In event of a fire, the BAS can initiate a sequence of operations to facilitate evacuation.
The BAS can signal the HVAC to stop delivering fresh air to the area and pressurize the path of egress to clear it of smoke.
The BAS signals the access control system to unlock doors, and surveillance cameras give responders a live
feed.
A building's digital signage can display realtime evacuation instructions in case that a disaster or emergency affects exit routes.
Motion sensors and lighting control systems can also provide indirect information about occupancy status in a connected building.
Lastly, when systems are converged on an IP network, it is possible for a security system to easily transmit digital images or a live video feed to police or emergency response personnel.
Also Read This
What are intelligent buildings