Last updated on September 14th, 2023 at 11:21 pm
Plumbing and sanitation work can not

be completed without house arrangements

.

A regular and adequate supply 

of water and an efficient plumbing system for the disposal of the waste is a must for every residential Plumbing and sanitary system is necessary for every

housing project, big or small. 
Proper planning and 
designing of the plumbing work procedure system serve 
the hygienic requirements of its occupants.
Plumbing 
and sanitation is, therefore, important branch of
building technology.  
Approximately, 8% of the total 

building. the 

construction cost of. the building is devoted to 

sanitation works procedures.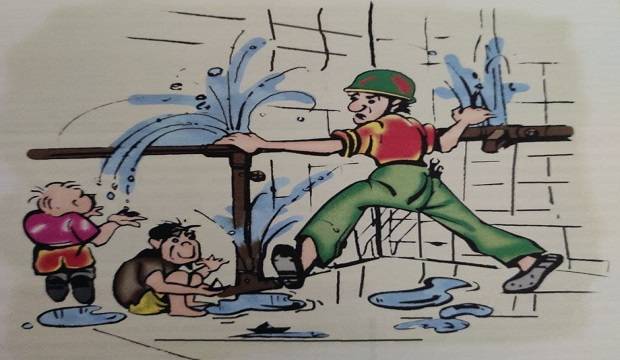 In this chapter, we will study the planning of plumbing and sanitation works, basic norms for designing these systems, necessity, and use of plumbing drawings, requirements of plumbing work agency, tools required, specifications of various materials, the role of plumbing consultant, etc. 

We will also deal with the water supply system, drainage system, mode of measurements, usage, and maintenance of plumbing and drainage work.
Since the 

plumbing and sanitation work procedure

 plays an important role in the construction of a building, the 

basic requirement, therefore, is the maintenance and designing of a complaint-free plumbing system.
Standard plumbing and sanitary material is easily 
available in the market and satisfy the 1.S. 
requirements.
But a good building cannot be 
constructed with quality materials alone. 
It also requires quality workmanship. Hence, stress is laid on the quality of workmanship, practical checks, and supervision for getting the best out of the skilled and unskilled labour, in coordination with other working agencies at a lesser cost.
BASIC REQUIREMENTS OF PLANNING PLUMBING, AND SANITATION
The type of plumbing systems used for drainage are

Single stack or double stack system.

Types and specifications of material being 

used, e.g., whether C.I. or P.V.C. pipes for 

drainage and whether C.I./P.V.C./A.C. pipes 

for stormwater stacks.

Provisions of underground tanks and overhead

tanks with their prescribed capacities.

A separate pumping system for supplying 

municipal drinking water to the kitchen 

directly.

The necessity of fire fighting systems based on 

statutory provisions.
Select the water source to be used.

Is sufficient municipal drinking water 

available?

Is there any other source of water on-site, 

e.g. open well, tube well, etc.?

Is the available water potable? If not, can it 

be made potable with some treatment 

methods?

Finalize the sewage disposal system.

Is the municipal sewer line available for 

the project? At what invert level? 

Is the septic tank required? Decide on the 

location for the septic tank.

Engage a consultant for '

plumbing and sanitation work procedure

' to prepare the drawings and details, in 

advance. This should be done at the beginning of the project.
Finalize the agency for the plumbing work.
BASICS OF PLUMBING SYSTEM
The plumbing system includes.
Water supply

.

Soil pipes and fixtures.

The sanitary drainage system, to carry the wastewater

 from the plumbing fixtures to the public or 

private disposal system.

Stormwater drainage system to collect and 

carry rainwater.

Fire fighting systems for high-rise buildings as

per the statutory provisions. (All buildings may 

not need this)
PLUMBING 

AND SANITATION NORMS
1. WATER SUPPLY SYSTEM
An adequate quantity of clean and potable water for drinking purposes should be supplied. Water from other sources should also be made available for daily use, for twenty-four hours of efficient flushing.

Proper pumping systems with adequate stand-by arrangements should be made.
Water should be supplied with the required pressure, up to O.H.W.T. (Over Head Water Tank), and then to the individual residential units with the minimum prescribed pressure.
The system should invoke minimum maintenance.
2. PLUMBING FIXTURES AND PIPES
The plumbing fixtures should be
Smoothly finished for uninterrupted flow.

Located in well-ventilated enclosures ducts.

Easily accessible for the intended use and 

repairs.

Able to withstand designed pressure.

Connected to a drainage system with water 

seal traps.
Tested for leakages, defects, etc.
The plumbing pipes should be

Made of durable material and connected by 

suitable and satisfactory joints of good 

workmanship, for satisfactory service 

during its reasonable life expectancy. 

Easily accessible for inspection, working, 

and repairs.

Made rodent-proof (e.g., rat, mouse, squirrel, 

etc.)

Tested for leakages, defects, etc.
3. SANITARY AND DRAINAGE SYSTEMS
It should be well-designed, executed, operated, and

maintained according to national standards.

And as per the provisions of the local municipal 

authority.

It should be leak-proof while crossing the 

potable water supply system.

Should be properly ventilated and have an adequate trap system, provided with necessary water seals to avoid foul gases.

It should have properly prescribed slopes.

It should require minimum water for proper performance and cleaning.
4. STORMWATER DRAINAGE
All building terraces should have proper slopes 

for carrying rainwater towards a catch point.

The total project should be well planned to avoid the 

accumulation of 'rainwater in ducts, parking, 

on roads, or on open grounds.

We should have well-connected stormwater drains with proper slopes for carrying unused water. These drains should be inspected and maintained properly, especially before rains.
5. USE OF PLUMBING DRAWINGS

Plumbing drawings must include all

the minor details. These drawings prove useful as 

mentioned below –

Drawings are useful for calculating the accurate 

quantity of the materials to be used.

For procuring good materials as per I.S. 

Specifications.

To avoid unnecessary wastage of the materials.

To coordinate all the steps of plumbing work.

To plan and execute the work properly.

Proves easy maintenance of underground

and concealed pipes.

To provide appropriate accessories for reducing

frictional losses.
REQUIREMENTS OF PLUMBING WORK 

AGENCY (PLUMBING WORK CONTRACTOR)
1. BASIC QUALIFICATION OF PLUMBING WORK CONTRACTOR
The plumbing work contractor should hold a license issued by the local municipal authorities. t
he license is issued after checking his experience and knowledge of the subject, know-how of the prevailing rules and regulations, and capacity to procure required tools and plants. This ensures quality in the construction of projects.
A plumbing works license is issued on application

to individuals as follows

To a civil engineering graduate or diploma 

holder,

To non-technical persons (provided the 

following eligibility criteria are satisfied) –

Minimum qualification->SSC.

Minimum Age->21 years.

Reference->Certificate of the work done, 

from two architectural or contracting 

agencies.

The examination is conducted by the local 

government authorities. After passing this 

examination, the license is issued.

The license is valid for a fixed period and 

needs to be renewed.
2. RULES AND RESPONSIBILITIES OF THE PLUMBING CONTRACTOR
To execute the plumbing work, a good contractor should follow the guidelines given below 

Should prepare/help in preparing the working 

drawings and get them approved by the local 

authorities.

Should study the detailed drawings, regarding the 

plumbing works of the project.

Should visualize any practical difficulties in 

carrying out the work as shown and to make the 

necessary changes, during the initial planning 

stage.

Should follow up with the plumbing consultant 

for preparing proposals of water and drainage 

systems and necessary approvals.

We should employ a team of skilled plumbers and 

skilled workers to ensure good workmanship for 

the project.

The contractor should assist the plumbing work 

consultant in obtaining the necessary N.O.C 

(No Objection Certificate) approvals etc. after 

the completion of the works.

I should be able to attend to any complaints about 

the completed projects and routine maintenance 

for the same.

3. EXPECTED WORKMANSHIP FROM THE PLUMBING CONTRACTOR
A good plumbing contractor should know all the 

prevailing rules and complete the works 

accordingly.

Should employ experienced plumbers to execute 

the job, to ensure quality work and prevent any 

maintenance problems in the future.

All practical difficulties should be discussed 

with the site in charge and the plumbing

consultant. This minimizes the repetition of 

jobs and therefore, any additional overhead 

expenditures.

Proper tools should be used to execute the 

required work.

The contractor, as well as his workers, should have a

sound knowledge of material quality and 

specifications, to prevent any mistakes.

The

plumbing contractor

should not hamper spoil other works like plastering. waterproofing. tiling, electrical conducting, etc. He should take the necessary precautions for improving the workmanship of the total project and not of plumbing work alone.
A2Z Construction – Plumber work, Water Pipe, and Sanitary Pipe connection
4. AWARENESS OF SAFETY PRECAUTIONS
A good plumbing contractor should give proper weightage to safety precautions during the progress of works. The following steps should be observed.

All work activities should be done in a systematic 

manner and phase-wise.

All external work should be done, using proper 

scaffolding. While using ropes zulas, sufficient 

care should be taken to prevent accidents.

All work should be done with the proper tools. Worn-out

 and old tools require more manpower and 

may lead to accidents.

Coordination with other work agencies is a

must. This also helps to maintain the safety of 

the workers employed by the other contractors.

A good contractor should maintain a first-aid box 

on the site, in case of accidental injuries.

During trenching work, the prescribed safety 

rules should be followed.
5. COORDINATION WITH OTHER AGENCIES 

INTRODUCTION

Plumbing work of the building requires coordination with other activities, to ensure smooth working. Excellent building construction is impossible without good teamwork and for good teamwork, coordination of all the agencies is essential.
ADVANTAGES OF CO-ORDINATION

Excellent coordination results in quality construction and benefits everyone concerned. The flat fetches a good resale value for its owner and earns a good reputation for the builder and engineers.

Teamwork and coordination result in minimizing defects, less manpower, and avoiding duplication of the work.

TYPES OF AGENCIES INVOLVED
Waterproofing agency

Masonry & Plaster agency

Tiling agency

Electrical agency

Painting agency

Departmental agency
CO-ORDINATION AND ROLE OF WATER-PROOFING 
AGENCY
Water-proofing and plumbing are related activities. 
They should coordinate to prevent any leakage
problems in the future.

PRE-WORK

Sunken floor should be plastered with C.M. 1:4 with a water-proofing compound and tested for water tightness.

The first coat of water-proofing should be done before fixing sanitary traps, in case of water closets (W.C.) and toilets.

The first coat of water-proofing and brickbat Coba coat should be done before fixing the bends of rainwater lines at the terrace level.
POST WORK

Sanitary traps and waste pipes of wash 

hand basins (W.H.B.) should be well 

embedded in the brickbat coba coat.

The final finishing coat should be carried out 

for the toilet and terrace after the curing of the 

brickbat coba coat.

Curing should be done for 14 days.
NECESSARY PRECAUTIONS

All the trap joints should be properly finished to avoid any leakage problems in the future. 
In the case of terrace rainwater pipes, the joint near the bend should be neatly finished with cement mortar, to prevent leakages.

CO-ORDINATION AND ROLE OF MASONRY PLASTER AGENCY
Masonry Plasterwork agencies are closely related to plumbing, as all vertical G.I., C.I., P.V.C. lines run on plastered surfaces. Concealed lines are always hidden in the masonry, hence coordination between plumbing and masonry plaster agency is very important.

PRE-WORK

Generally, all outlets are fixed and taken out from the building face, or sleeves are provided before the external plaster, Traps should be well embedded in cement mortar at the junction.

The walls of the W.C. and bathroom should be strong enough for the chasing of grooves for concealed pipes. Masonry of these walls must be done with the correctly specified cement-sand-mortar mix with R.C.C. bands, per meter (height).

POST WORK

After concealing the pipes, grooves should be finished with the specified cement-sand-mortar and the surface should be roughened.

After fixing vertical C.I./P.V.C./G.I. lines, all holes should be plastered with rich cement-sand mortar to prevent any leakages in the future.

NECESSARY PRECAUTIONS

The duct plaster should not be ignored for its quality, plumb, line, and level.

The plaster over which the vertical pipelines

 are to be run must be in line and 

plumb. This point should not be overlooked 

by the site engineer contractors.

Improper plastering can cause problems in 

the plumbing lines later on, like leakage 

through the joints, cracking of the C.I. 

fittings, etc. 

Hence duct plaster must be done in perfect 

plumb, line, and level. 

engineers 

contractors.

CO-ORDINATION AND ROLE OF TILING AGENCY
Tiling and plumbing works are inter-linked. The following are the pre-work and post-work procedures for tiling work, with respect to plumbing work.

PRE-WORK

Generally, tiling is done after laying of plumbing pipes. So, there is hardly any pre-work as far as tiling is concerned.

POST WORK

All the concealed pipes should be properly placed and tested before fixing the glazed tile dado of the toilet.

Washbasin outlets and all the traps should be laid before the bathroom flooring work.

NECESSARY PRECAUTIONS

During polishing, the tile polisher generally sweeps the "polished tile powder slurry" in the nahani trap & I.W.C. 

This causes the pipes to choke up and may lead to repairing/replacing the pipes. To prevent this, the tile powder slurry should be collected and disposed of manually. In addition, the following points should be observed-

The opening of I.W.C. should be filled with 

sand, gunny bags, and the top layer should be

covered with a thick layer of P.O.P.

Nahani trap hole should be made in the 

flooring tile after the completion of the 

polishing work.
CO-ORDINATION AND ROLE OF ELECTRIFICATION AGENCY
Concealed plumbing and concealed electrification 
work are inter-linked activities, as far as bathrooms 
and toilets are concerned.
Since, both activities run simultaneously, pipes
should be laid very carefully.
Electrical conduits should not cross the 
plumbing pipes, so as to prevent any short 
circuits.
CO-ORDINATION AND ROLE OF PAINTING AGENCY
Painting is the final finishing item and starts after 
90% of the plumbing work is over.
Painters should not wash the used paint tins in 
bathroom washbasins. The sediments of the paints 
can cause choking up of the plumbing lines.
6. GENERAL CARE TO BE TAKEN BY PLUMBER
Choke up problem of the plumbing lines occurs 

due to negligence of other agencies.

Plumbers 

themselves should exercise 

precautions, since handling all agencies at a 

time is difficult.

Plumbers should seal all the traps with gunny 

bags and a layer of plaster of Paris at the top, to 

minimize the choke-up problem.

Remove these seals at the time of testing.

The site engineer must supervise these 

activities, to avoid any problems.
TOOLS REQUIRED FOR PLUMBING AND 

SANITATION WORKS PROCEDURE
Following is the list of tools used for 

plumbing work.

Plumber's hammers, tape, flat plier, gas plier, 

plumber's vice, bench vice, chain wrench, pipe 

wrench, footprint wrench, hacksaw frame with a 

blade, files, chisels, caulking tools, double-ended 

spanner set, ring spanner set, extension bar, 

socket wrench various handles, various sizes 

die, thapi, ghamela, etc.
LIST OF MAJOR MATERIALS FOR 

VARIOUS PLUMBING AND SANITATION 

WORKS
Materials required for plumbing and sanitation work procedure can be broadly divided into two categories viz. material required for internal plumbing and sanitation work and material required for external plumbing and drainage work. All the materials should have adhered to the IS standards.

GALVANIZED IRON (G.I.) MATERIALS.

G.I. Pipes and fittings are available in various sizes i.e. 15mm, 20mm, 25mm, 32mm, 40mm, etc.

G.I. Pipes, elbows, tees, unions, sockets, plugs, stop cocks, bends, double nipples, gate valves, etc. reducers of various sizes, tag, habak, hold tite.
CAST IRON (C.I.) MATERIALS
C.I. Pipes

Single double sockets

Single socket/double socket connectors

Plain plug tees

Plain plug bends

Single double 'Y' in the length of 300 to 

450mm

Nahani traps and in diameters of 75, 100, 

150mm

C.I. chamber covers

C.I. gully trap covers

C.I. rainwater (R/W) shoes

C.I. offsets

Cowls
R.C.C. Hume pipes NP1, NP2, NP3, NP4 grade

Gully traps – 100mm, 150mm

Sewer traps 150mm, 250mm

Chamber covers – square, round, and

angular

Stoneware glazed (S.W.G.) pipes

Rainwater pipes – 100, 150, 200mm

Packing rope (Rassi)
SANITARY WARE ITEMS
Wash hand basin (W.H.B.)

Indian water closet (I.W.C.)

European water closet (E.W.C.)

Anglo-Indian water closet (A.I.W.C.)

Bidet

Urinals, sinks, soap dishes, etc.
SANITARY FITTINGS 
These fittings are used to control water flow 
in bathrooms, toilets, water closets, kitchens,
etc. These fittings are available in brass, 
powder-coated chromium-plated (C.P.). 
Polyvinyl chloride (P.V.C.), iron, etc. m
ost 
popular and common are C.P. fittings. Full 
half threaded waste coupling, stop valves of 
open and concealed type, pillar tap, sink 
basin wall mixer, bib tap, extension piece 
with flange, etc.
(P.V.C.) MATERIALS
Pipes Single socket Double socket

Plain bends, plug bends

P.V.C. plain tees, P.V.C. plug tees

P.V.C. single 'Y', P.V.C. double, 'Y'

P.V.C. collars

P.V.C. cowls

P.V.C. shoes

P.V.C. offsets, P.V.C. sockets, etc.
QUALITY CHECKING OF MATERIALS PLUMBING
For a detailed checklist, refer (Material quality testing).
The following checks should be made on the site.
1. G.I. PIPES
Class, color strip, diameter, weight/r.m., length, visible cracks, etc.
Types of classes light (A), medium (B), and heavy (C).
Nominal diameter available in the market 15mm, 20mm, 25mm, 32mm, 40mm, 50mm, 65mm, 80mm, 100mm, 125mm, 

150mm and 200mm.

The class of pipes indicates the use.

Wall thickness of various classes of different. 
Diameter, make threading, visible cracks, etc.
g i pipe identification
3. VALVES

Type, size, cracks, defects, leakages, etc.

4. C.P. FITTINGS

Type, surface finish, leakages, threading, etc.

5. TRAP

Type, material, size, internal smoothness, any visible cracks, etc.

6. SANITARY FITTINGS

Type, material, size, any visible cracks, finishing, color, etc.

7. NAHANI TRAP

Material, size, length, water seal depth, weight, internal smoothness, cracks, etc.

8. P-TRAP, S-TRAP

Material, size, water seal depth, length, shape, finishing, etc.

9. C.I. PIPES

C.I. pipes should be checked for type, class length, thickness of the wall, straightness, ISI, Non-ISI, visible cracks, bends, etc.

The type of C.I. pipes ordered depends on its utilization. Soil pipe for W.C. and toilet lines, while ordinary pipes are used for bath and rainwater downtake.

Domestic water supply is provided through LA Class C.I. pipe, which comes in two classes A and B.

10. C.I. FITTINGS

The thickness of the wall, internal smoothness, correct included angles, visible cracks, brand, etc.
ROLE AND RESPONSIBILITIES OF PLUMBING CONSULTANT
The plumbing consultant for a project should be a civil engineer, holding a license to carry out plumbing work. He should possess actual field experience with a sound knowledge of plumbing and sanitation work procedures.

1. Responsibilities of the Plumbing consultant

The consultant should be associated with the project from the planning stage.

To coordinate the different stages of the plumbing work of an ongoing construction project.

To provide the drawing details, considering local authority rules and regulations, regarding water supply systems, internal piping, details of all plumbing and sanitary fittings, general drainage disposal layout, stormwater drainage details, boosting system details, etc.

To finalize levels of the proposed roads and buildings, in order to provide proper slopes for drainage.

To propose and obtain sanctions from the Municipal authorities for the 

plumbing and sanitation work procedure

systems.

To collect N.O.C. from the concerned authorities for the completed work.

To maintain quality control on works during execution.

To issue certificates for quality of workmanship after testing and checking of G.I. lines at the required pressure, at every stage, and C.I., P.V.C., and other lines for line, level plumb, and leakages.

To propose solutions for modifications alteration/additions/deletion in the work periodically, as per site conditions.

To prepare the final record drawing as per the actual work execution at the site.

specify and advise about the quality of materials to be used.

The advice in the selection of the plumbing contractor.

Regular site visits during the execution of the work until the completion of the project.

Introduction of new concepts and systems as per the latest development in the plumbing field at National and International levels. The consultant should preferably be a member of the Association of Consulting Engineers (India).
2. PLUMBING DRAWINGS LIST
Stormwater drawing

Drainage drawing

Water supply lines

Septic tank

O.H.W.T.

U.G.W.T.

Terrace level distribution

Internal plumbing work details

Any specific details required

Pump details

Pump room arrangement details

Any other structure required to carry plumbing systems

Swimming pool (if provided), details regarding plumbing requirements/filtration plant

plumbing details
Sewage treatment plants, if required

3. ALL DRAWINGS SHOULD HAVE THE FOLLOWING DETAILS

Layout drawings with the levels of roads and buildings, indicating the general final contour.

Details of total drainage disposal systems on the layout.

Position of septic tanks, U.G. water tanks, open wells, tube wells, etc.

Stormwater flow pattern on the layout.

Boosting system details for various buildings.
GENERAL DRAWINGS

Individual bath   W.C. toilet kitchen details.
In plan

In section

Heights of various C.P. fittings, G.I. fittings

from F.F.L.

Specifications of all materials to be used
Terrace level details
Slope provision of the terrace.

Location of rainwater outlets.

Location of the overhead water tank.

Detailed drawings of outlet and distribution, a network of G.I. pipes on the terrace.
Overhead water tank details
Size and capacity of the water tank.

Inlet, outlet, washout positions, and details.

Outlet down takes pipe details.

Floor-wise and flat-wise distribution details.

Drainage Disposal details
Detailed drawings of septic tank internal works.

Inlet and outlet details.

Necessary filter media details.
Stormwater drainage work drawings
Necessary slopes of roads with R.L.s.

Outlet details of rainwater pipe.

Sectional details of the stormwater drain.
Overhead water tank details
Constructional details regarding plumbing fittings.

Inlet, outlet, and storage capacity details.

Necessary fittings details.

WATER SUPPLY SYSTEMS AND IT'S WORK PROCEDURE
1. INTRODUCTION

Providing water in residential premises for requirements such as drinking, cooking, washing, and cleaning is the main object of a water supply system.

Water should be,
Free from disease-causing organisms like bacteria, viruses, etc.

Free of undesirable taste and odour.

Clear and colorless.

Free of excessive minerals.

Free of poisonous materials.
In nature, we get water as,
Surface water in the form of rivers, lakes, and reservoirs.

Underground water in the form of open wells and tube wells.
2. SOURCES OF WATER SUPPLY

Municipal Corporation/Local Authority

Bore-well at site

Open well-at site

Water from these sources should be tested for standard requirements of potable water. Normally, the Municipal water is supposed to be potable and no separate tests are required for it.

The standard requirements of potable water are attached, as a test report.
SPECIMEN TEST REPORT OF WATER FROM BORE-WELL WELL

DISINFECTION OF WATER


Wells must be disinfected using heavy doses of chlorine. Bleaching powder can be also be used for the disinfection of the water. Bleaching powder contains 25% to 30% chlorine. The final residual chlorine in water, at the consumer's end, should be brought down to 200mg/liter. 
The water received from the Municipal Corporation is treated at a central plant and disinfected. Periodical checking can be carried out to check the percentage of chlorine.

3. UNDERGROUND WATER TANK (U.G.W.T.)
Keep U.G.W.T. @ 60cm above the finished formation level of the surrounding land.

The capacity should be 1.5 times of O.H.W.T.

It can be either of R.C.C. or masonry structure.

Refer a detailed sketch for reinforcement in the R.C.C. chapter.

Keep the bottom slab of the underground water tank, above the groundwater table and above the outlet level of the septic tank. U.G.W.T.

should be located away from the septic tank.

After finalizing both top and bottom slab levels, the size (length and width) can be finalized as per the required capacity, i.e., 1.5 times the capacity of O.H.W.T.

A freeboard of a minimum of 15cm should be provided.
CONSTRUCTION PROCEDURE FOR UNDERGROUND WATER TANK
The bottom slab should be on hard strata.

Use a concrete mix of grade M20.

A proper compartment should be made to store

Municipal water and bore-well water separately.

The

water-proofing

of both the compartments should be done thoroughly, before actual use.
test report bore well
A sunk portion of size 30 x 30 x 15cm should be kept in the bottom slab of both the compartments, for the foot valve of the pump, which also helps in cleaning of U.G.W.T.

After completion of R.C.C. work, external plastering should be done using a proper admixture to make the tank waterproof.

All necessary openings for inlet, overflow, pump suction pipe, and manhole cover should be executed as per the drawing.

Installation of the pump should be done on foundation bolts, which are embedded in a firm R.C.C. foundation on the top slab. Pumps can 

also, be located near the side walls.

Arrangement for a permanent M.S. ladder should be made if the depth of U.G.W.T. exceeds 2.5m.

All necessary fabrication and welding work should be completed before the commencement of the water-proofing work.

A room constructed on the U.G. Tank can serve as the site office during the initial stages. Later, it can be converted into a pump room/society office, etc.
4. DISTRIBUTION SYSTEMS FROM U.G. TANK TO O.H. WATER TANK
Storage water will be supplied to the O.H. tank, using pumping systems.
distribution from ugmt to ohwt
PLUMBING WORK
As per the distribution network and the number of O.H. tanks for water storage, the pump size and delivery pipe details will be decided.

The following points should be considered.

The delivery pipe coming out of the pump room should be taken below ground and then to individual buildings.

The pipe used should be of 'C' class and precautions should be taken to avoid leakages, due to faulty connections, etc. All bends used for the connections should belong bends, so as to minimize the frictional losses.

G.I. tees are provided to take out the branches from the mainline near each building.

All necessary care should be taken to fix the line in a straight line and plumb. It should be properly clamped.

The inlet to O.H. Tank should be provided considering the proper freeboard in the tank.

Ball cock arrangement should be provided at inlet to stop the flow of incoming water when it reaches the freeboard level.

A separate gate valve should be provided at about 0.9m (3′) which can be used to prevent the water from going to that particular O.H. tank on the same main line.

A suitable pump controlling system should be used as per the requirements of the project.
PUMP DETAILS

Usually, the pressure from the service mains is not sufficient to take the water up to O.H.W.T. So, the service main connection is provided into a U.G.W.T.

The water is then pumped to O.H.W.T., from where it is supplied to the individual unit by gravity, through a network of pipes and valves. Refer figure for water supply network.
TYPES OF PUMPS

Single-phase

Three-phase

Positive suction pumps

Negative suction pumps

Self-priming pumps

Pumps where priming is required

Submersible

pumps.

Jet pumps

Turbine pumps

Reciprocating pumps etc.
WHAT IS PRIMING?
The pump cannot operate if the air is present in the suction pipe. "Removing the air from the suction pipe, by pouring the water in, is called priming".

If priming is not done, the pump will run dry (DRY RUN CONDITION), and thus winding will be burned. To avoid this 'PRIMING IS A MUST'.


TYPES OF PRIMING
A tee is provided just above the suction pipe, through which water is poured in.

A convenient way of priming is to tap the vertical feeding line from the pump to the O.H. tank by a lesser diameter G.I. line & connecting it to the suction line by means of a tee. A gate valve is provided to operate such a secondary line.
PROCEDURE OF PRIMING

The plug should be removed and the water poured in, with the help of a bucket jug until it overflows. The plug is fitted again and the pump is operated. 

For other types of priming, before starting the pump operation, the gate valve is operated such that the water held up in the vertical feeding line flows down up to the foot valve and fills up the suction pipe. Then the pump can be operated.

5. WATER METERS
Water meters measure the flow of water from a mainline to the house service connection. The domestic water meter should confirm to IS 779:1978.

Domestic water meters are usually the horizontal flow type.

Normal sizes are : 15,20,40 and 50mm.

Selection, installation, and maintenance, should confirm to IS 2401:1973.

A filter is fitted on the upstream (inlet side) of the water meter.

Any air passing through the water meter will give inaccurate readings.

Non-return valves should be provided on it's downstream (outlet side).

Water meters are placed in a meter box at a higher level, to avoid flooding during rains.

Domestic water meter testing should be as per IS 6784:1984.

The domestic water meter box should be as per IS 2104:1981.
6. BOOSTING SYSTEM AND ELECTRONIC PUMP CONTROLLER

The normal method of the water supply system is a direct connection of drinking water from the Municipal supply lines.
Multi-storeyed buildings have a problem of insufficient pressure in the drinking water supply system. To overcome this problem, store water in U.G.W.T. and pump for some time. 
This pump is connected directly to the potable water supply pipeline network, provided to all the units. 
This is called the BOOSTING SYSTEM. To operate this regularly for a fixed period, an electronic pump controller can be fixed to the system.
BASIC REQUIREMENTS OF BOOSTING SYSTEM
A separate boosting pump.

Deciding it's operation time, depending on the consumer's convenience.

A preferable automatic  ON-OFF mechanism, to eliminate dependency on watchman in this critical period.

The tail end of the drinking water pipeline network should be let in either U.G.W.T. or O.H.W.T. In case the intermediate outlets are not opened, this system helps to release the excess water pressure

developed

on the pipeline, that can load the pump itself.

ELECTRONIC PUMP CONTROLLER

An electronic pump controller is used to maintain a regular water supply, which may be affected.

Irregularity of the watchman operator.

Irregular water supply from Municipal Corporation.

Critical electricity conditions like melting of wires due to overheating of the pump, single phasing reverse rotation, etc. which cannot be handled by the watchman.

Spillage of water from U.G.W.T. or O.H.W.T. There are two types

of the pump controller.

Float type.

Conducting type.
7. DISTRIBUTION FROM OVERHEAD WATER TANK TO INDIVIDUAL UNITS
Overhead water tank. is usually rectangular in shape and mostly covers the staircase opening. Therefore. lengths and breadths being fixed, the capacity of the tank is adjusted by varying the depth (height) of the tank.
Points to be considered for O.H.W.T.

O.H.W.T. is usually rectangular in shape because of design constraints. Unlike the U.G.W.T., the length and breadth of an O.H.W.T. have less flexibility, so the capacity is adjusted by varying the height.

The capacity can be worked out by assuming the water requirement as 135 liters person per day.

For a one-bedroom flat, five persons and for two-bedroom flat seven persons can be assumed.

To place the inlet, outlet, and wash out pipes in position, the provision should be made while centering, by providing the necessary holes and placing the pipes of G.I. pipes (with holdfast welded.

An opening of size 60cm x 90cm is provided in O.H.W.T. top slab for a manhole cover.

Gate valves for each outlet, i.e., bath/W.C. line and kitchen line should be provided on the terrace parapet, for easy maintenance or replacement.

The minimum freeboard should be 150mm.

The overflow should be provided 25mm to 50mm below the inlet. The size should be a little larger than the inlet pipe.

Outlets should be 10cm to 15cm above the finished bottom of the tank.

Washout should be in flush with the finished floor and plugged properly when not in operation.

The pipeline from the O.H.W.T. to individual units should have a minimum length of run and bends (turns).

Gate valve for each outlet should be provided, at a height of 3.0m from the finished terrace level, for easy maintenance of the lines.

A gate valve provided to the water line at the entry of each flat facilitates the maintenance of individual flat without affecting the water supply to other flats.

All joints should be checked for any leakages with pressure testing equipment.
PROCEDURE FOR LAYING VERTICAL G.I. LINES
Determine the location from where the lines are to be taken.

Mark the plumb line for vertical stacks to be fixed on the wall.

Erect the scaffolding without making any holes in the walls. Take vertical support from the windows inside and tie it properly.

Fix the pipes on the wall with clips and G.I. nails of 40mm length.

Clipping should be done at a spacing of 1.5m to 2m.

All the holes (Chabad) should be filled with brick/block pieces and should be finished with rich cement mortar to match the wall surface.

Do not remove the scaffolding unless all the holes are properly finished.
8. INTERNAL PLUMBING SYSTEMS
PROCEDURE OF INTERNAL PLUMBING
Generally, concealed plumbing work is required in bathrooms and toilets. Different steps involved in this are as follows
Plaster the internal walls of bath toilets.

Mark the line on walls with chalk, in proper

alignment and plumb, as per the recommended heights and internal plumbing drawings.

Start chasing the well using chisel and hammer. The chasing should be done keeping the following points in mind.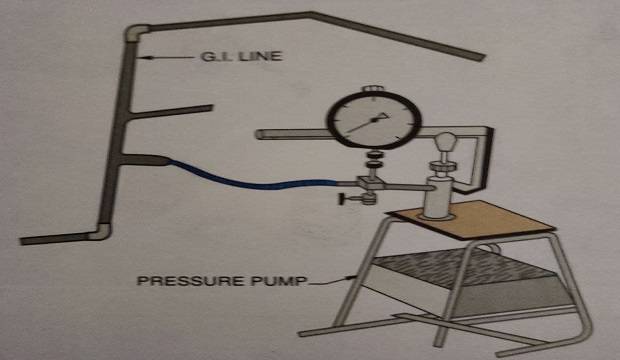 Depth: should not exceed the pipe size.

Width: should be sufficient to accommodate the pipeline.

Alignment: should be done considering the straightness.

Height: should be as per the specifications for all the fittings.

For columns and other R.C.C. work, chasing should be strictly avoided.

Check the class specifications of materials. Preferably 'C' class G.I. pipe should be used.

Fittings should be checked for their correctness. cracks etc.

Prepare the pipe-skeleton and check all the joints for tightness.

The water tightness of the line can be checked using pressure testing equipment. All other openings should be plugged except the end portions to which the pressure gauge machine is connected.

The pressure reading should be between 5 to 10kg/sq.cm. and even a single drop of water should not escape the joints during testing.

Apply coal-tar over this skeleton with a brush.

Cover this skeleton, including fittings, with a Hessian cloth (kiltan) and tie it properly.

Fix the skeleton on the wall using 40mm plumbing nails, at a distance of 23cm (9″) on alternate sides.

Plaster the line with cement-sand mortar. For the portion where glazed tile dado is proposed, the plaster surface should be roughened. The other portion should be properly finished with Neeru.

Curing should be done over the ghabadi for at least seven days.
PROCEDURE OF INTERNAL PLUMBING
Preferably 'B' class pipes should be used.
Marking should be done for horizontal and vertical pipelines with the help of line Dori and robin blue and the pipelines should be fixed on the wall.
All pipe joints should be properly clamped to the wall using the required size of the clamps. For clamping, drill holes and insert wooden plug inside.

Pressure testing should be done as per the concealed line.

Open G.1. pipes should be painted with oil paint during the finishing stages, to prevent any rusting of the line.

TYPICAL PLUMBING LAYOUT FOR BATH W.C. W.H.B. KITCHEN TOILETS
Generally, bath W.C. and W.H.B. in residential building construction are located near each other, for better planning and economical plumbing system. s
ometimes the kitchen is also planned near the bath W.C. for the same reason. shows a layout of the plumbing work, as a guideline for economical & easy construction.
9. G.I. FITTINGS AND THEIR USES


It is a fitting used to connect two pipes.

It is used.

At the beginning of a pipe system inside a room.
STANDARD HEIGHTS OF PLUMBING FITTINGS
The various fittings in plumbing works should be provided at heights as mentioned below 

For all appliances.

Mid-way between long pipeline.

Union enables repairs replacement of the pipeline system, without disturbing the other parts of the system.

SOCKET

These fittings are used to connect one length to another, for the continuation of the pipeline.

ELBOW

It connects two pipes at 90° and has a short curvature.

BEND

It connects two pipes at any required angle. It cannot be used in walls because of a larger curvature.

TEE

It is a fitting with a side outlet at 90° to the run of the pipe.

CROSS TEE

It is fitting with four branches arranged in pairs, each at right angles to the other.

REDUCER

This fitting is larger at one end than the other. It is used to connect pipes of two different diameters by,
Reducer tee

Reducer elbow

Reducer bend

Reducer socket
BARREL NIPPLE

It is a piece of pipe threaded at both ends and can be used for a short extension of the plumbing line.

DOUBLE NIPPLE

It is used to connect two fittings within a short distance, It has threads on both sides of the central piece.

PLUG

It has an exterior pipe thread end and a projecting head for fitting in the socket.

CLAMPS

They are used for tightening the pipes to the walls for vertical and horizontal lines. They are available in various sizes as per the size of the pipes.

PLUMBING NAILS

Usually, plumbing nails of size 50mm and 75mm (2″ and 3″) are used and can be hammered on clamps over R.C.C. surface or brick/block masonry.

AIR VALVE

When water mains are in an undulating position, they should be provided with air outlet valves at the highest point. These valves release the air trapped in the mains when the intensity of water flow is being changed. this valve consists of a floating ball which allows the air to escape, but is set back by pressure when comes in contact with the water.

PUSH TAP

In order to prevent undue wastage of water in factories, schools, and similar buildings, self-closing taps are often used. they are particularly used for washbasins and equipment used for drinking water purposes. Generally, it is a bib tap with a horizontal inlet.

SLUICE VALVE

It controls the flow of water from the source to the town or area where water distribution is to be done. These are fixed at intervals of about 3 to 5km, to divide the pipeline in different sections. these valves are also fixed on distribution pipes. They are normally controlled by a wheel.
PILLAR TAP

It has a vertical inlet' and is provided on washbasins. It is either bent down at 90 degrees or at an angle called the angular pillar tap.

10. FIRE FIGHTING SYSTEM
REQUIREMENTS AS PER MUNICIPAL RULES
If the height of the building exceeds 15.0m, the fire fighting system must be installed in the building as per the Municipal corporation rules Details of requirements, work procedure, etc. is discussed in.

11. CHECKLIST OF PLUMBING WORK

Are all fixtures like bib taps, mixers, etc. fixed properly?

Is there any leakage from taps/other C.P. fixtures?

Is there proper pressure to all the taps/cocks?

Is the half-turn flush cock operation proper?

Is there any choke-up in W.C., after the continuous flow of water from half-turn flush cock for at least five minutes?

Is there any cement lump observed in the P-trap of W.C.?

Is there any choke-up in the Nahanni trap of the bathroom, after the continuous flow of water for five minutes?

Is the hot and cold water mixer operation proper?

Are the boiler connections on loft properly plugged?

Is the low-level water tank operatiòn of E.W.C. proper?

Is the seat cover of E.W.C. fixed properly?

Are all sanitary fixtures properly cleaned?

Are the brackets of W.H.B. painted with oil paint?

Are the open G.I. pipe fitting connected to E.W.C. painted?

Is the wash hand basin fitted properly? Does it move?

Are there any cracks/breakage to any of the sanitary fittings?

Is there any leakage from the C.I. lines in the duct, after continuous water flow for fifteen minutes?

Is the fixing of G.I./C.I./A.C. lines in plumb and clamped properly?

Is there any leakage in the drainage chambers?

Is there any leakage in the main inlet and outlet G.I. lines of the water tanks?

Are there any cracks on white cement-filled between washbasin and wall?

Are P.V.C. outlets pipes for wash hand basin and kitchen sink fixed properly?

Is there any separate mark for Municipal water tap and tap from O.H.W.T.?

Are escape spouts from W.C. and bath are provided?
12. PROBABLE NEGLIGENCE OF PLUMBER
Even when a plumbing contractor holding a license is appointed for a particular project, the actual work is often executed by untrained plumbers. This leads to faults in the actual work and these faults lead to major plumbing hazards at a later stage.

Generally, the following types of negligence are observed.
Not differentiating between the various class of pipes like A, B, C, and it's usages for a particular The work. Identification in a class of G.I. pipe is overlooked.

Random pipe cutting practice: The cutting plane and should be perpendicular to the length of the pipeline and proper cutting farma should be used.

Random thread practice: If threading is done to an insufficient depth and length, then wear and tear occurs, creating difficulties in maintenance.

Using improper fittings:

Use of low-quality or discarded fittings with hairline cracks or other problems.

Using oversized or undersized fittings and pipes, due to non-availability of proper size.

Insufficient use of hemp rope (tag) and hold tite for fittings.

During concealed work, coal tar is applied carelessly, and covering kiltan on pipes is not done properly.

Using worn-out tools can spoil the plumbing material and fittings.

Improper chasing made on walls/columns. without due care for structural stability.

Faulty ghabadi finishing creates problems in tiling and can cause leakages if the ghabadi work is done by a plumber or semi-skilled mason. Always employ a skilled mason for plumbing work.

No curing arrangements are made for ghabadi finishing.

The aspect of future maintenance work is neglected, i.e., the use of unions, gate valves, etc, is seldom done.

No plugging is done for open points, blocked by cement mortar, during construction."

Unnecessary tightening of joint work/fitting connection.

Insufficient knowledge of Municipal standards and regulations.

Improper coordinating with other contractors viz. civil works contractor, water-proofing contractor, etc.

The plumber may damage the waterproofing on the terrace for G.I. outlets> this can lead to leakages.

If the waterproofing in the bath and W.C. is damaged, it can again lead to leakages.
13. POINTS NORMALLY OVERLOOKED BY THE ENGINEER

Since plumbing is an important service in construction work, the site engineer must possess a sound knowledge of plumbing techniques. Most plumbing problems occur due to the plumber and a lack of plumbing know-how. Working with thumb rules should be avoided.
The site Civil engineer should observe the following rules.

Always insist on plumbers with licenses and skilled workmen at the site.

Check all plumbing materials for quality. The class of G.I. pipes should be checked, by color coding and also by sample weighing.

Insist that proper tools be used by the plumber at the site.

Plan all requirements properly, so as to avoid using the available fittings and pipes instead of the proper materials.

Never rely on the requirements/sizes specified by the plumber.

Insist on detailed plumbing drawings, along with quantity estimation by the consultant, before the commencement of any work.

Ensure minimum wastage while cutting of full-length pipes. Even small pieces of lengths up to 15cm (6″) can be used as barrel nipples, double nipples with proper threading.

The engineer shall have sufficient knowledge of the stacking and handling of the plumbing material. Any mishandling by the unskilled plumbers should be checked immediately and such personnel should be removed from the work.

Even if the plumbing system is concealed, always insist on the proper alignment and verticality of pipelines.

Pressure checking for leakages in plumbing lines is a must. It should be supervised personally and the use of the proper pressure gauge equipment should be ensured.

Ensure sufficient knowledge of Municipal standards and regulations.

Arrange plumbing work in coordination with other contractors. This prevents mistakes, delays, repetition of work, etc.

Insist on the employment of skilled mason by the plumbing contractor. Never allow plumber's helpers to do ghabadi finishing work.

Insist on proper curing for plumbing ghabadi.

Do not succumb to the pressure tactics of the plumbing contractor.

Ensure that due care is being taken for other ongoing works by plumbers.

Insist on good plumbers during progressive nib stages of the work.
14. DO'S AND DONT'S FOR PLUMBING WORK 
Check the top level of the Nahanni trap before water-proofing work. 

Apply kiltan cover and coal-tar to all concealed G.I. lines.

Fix all concealed G.I. lines in position firmly with 40mm plumbing nails.

Ensure proper curing for all ghabadi work and finishing of concealed lines.

Issue materials required for a specific day.

Consider the floor thickness/F.F.L., before finalizing the heights of the fittings.

Ensure that all G.I. lines are in plumb.

Ensure proper clippings to the pipelines on the external side.

Make proper ball valve arrangement for inlets of O.H. and U.G, water tank.
DONT'S FOR PLUMBING WORK
Don't start the plastering work of concealed G.I. lines before checking for leakages, under pressure for all concealed joints.
Don't leave G.I. portions outside the plaster finish or glazed tile work.

Don't keep the open G.I. pipelines unpainted.

Don't damage any water-proofing work during plumbing.

Don't keep the nahani trap/P-trap etc. unplugged.

Don't keep the openings in G.I. pipe lines unplugged before starting the internal plaster.

Don't start the pumping operation before checking for priming.

Don't allow loose fixing of W.H.B.

Don't fix costly C.P. fitting at an early stage and avoid thefts.
DRAINAGE SYSTEMS AND IT'S WORKS PROCEDURE
1. INTRODUCTION

The Drainage systems method of collecting and disposing of the waste has been modernized and replaced by a system.
Where wastes are mixed with a sufficient quantity of water and carried through closed conduits under the gravity flow condition.
This waste sewage automatically flows up to the place of disposal after suitable treatments.
The treated sewage effluents may be disposed of either in a running stream or nalla or may be used for cultivation.

2. SCOPE OF DRAINAGE SYSTEMS

The drainage system is the art of installing and laying the network of pipes along with fixtures and fittings in a systematic manner, considering the aesthetics in an economical way.

Drainage system includes drainage pipes, fixtures, traps, vent pipes, stormwater pipes, sewer lines, manholes, etc, along with their devices and the necessary connections for disposal of the wastewater in a defined way.

3. CLASSIFICATION OF DRAINAGE SYSTEM
INTERNAL DRAINAGE SYSTEM
Include nanahi trap, p trap, C.I / PVC line in sanitary units, kitchen outlet, vertical pipe lines from terrace to the ground level.
construction sequence flow chart drainage works
INTERNAL DRAINAGE SYSTEM

Includes Nahanni trap, P-trap, C.I./P.V.C. lines in sanitary units, kitchen outlets, vertical pipelines from the terrace to the ground level.

EXTERNAL DRAINAGE SYSTEM
Gully trap, chambers, sewer traps, sewer line, septic tank, filter bed, final disposal to sullage line.

PIPE MATERIAL

M.S, C.I, P.V.C, stoneware, A.C, R.C.C.

JOINTS
Cement joint C.I. pipes

Lead joint – C.I. pipes

Solution joint-P.V.C. pipes
TESTING OF JOINTS
Water under pressure

Smoke test
INTERNAL DRAINAGE SYSTEM
The choice of the system can be decided according to the 
location of the sanitary units, considered at the time of
planning
.
SINGLE STACK
This system can be used if a suitable grouping of all soil and waste pipes is possible.
DOUBLE STACK
This system can be used if the layout of the kitchen, bath, and W.C. is isolated.

If a grouping of all pipes is not possible.

If wastewater from the kitchen and bath is to be used for gardening.

2. PROCEDURE FOR FIXING VERTICAL STACKS
The actual marking of stack lines should be true. vertical on walls.

Locate the required positions of the holes for waste and soil pipe outlets.

Fixing of internal pipe network and traps up to vertical stacks with proper slopes.

Fix the pipes with fittings temporarily and check verticality along with the fittings.

Adjacent fittings should be at the same level.

Fix the vertical pipes and fittings with plumbing nails and clamps.

Clamps should be fixed at 1.5m C/C.

One clamp should be just below the pipe socket.

For horizontal pipelines spacing of the clamp should be 0.90m C/C.

Joint fillings should preferably be done with lead if the pipeline is to be embedded in the floors.

Holes made for fittings should be finished with cement mortar.

Vertical pipes can be extended up to 90cm (3′.0′) above terrace level for fixing cowl,

Connect the vertical stack to the gully trap and then to the inspection chamber.
3. VARIOUS FITTINGS AND FIXTURES, THEIR USES AND WORK PROCEDURE

Nahani trap is provided for discharging wastewater from the kitchen, bath etc, and has a water seal to avoid entry of gases.
typical nani trap joint
FIXING PROCEDURE OF NAHANI TRAP



Nahani trap should be checked for cracks, burr, and internal shape before fixing on site.

After one coat of water-proofing, nahani trap should be fixed with a minimum of 15cm from the side walls.

The connector is used to connect the nahani trap to the vertical stack. A long arm N.T. can also be used to connect it directly to the vertical stack.

Joints should be carefully filled with rich C.M. 1:2.

The mouth of N.T. should be protected with a gunny bag piece and then a layer of plaster of Paris should be applied, avoid choke-up.

During the progress of other work activities.
(b) P-TRAP S-TRAP
P-trap is provided for discharging the soil waste from W.C., toilet with a constant water seal to avoid entry of foul gases.

Check the trap for cracks, burr (scab), internal and base shape.

After one coat of water-proofing, adjust the height 19 of W.C. pan or commode with respect to the F.F.L. and then fix the traps.

For W.C. pan, P-trap should be primarily checked for a location to ensure that the W.C. pan is in the center of the W.C. room.

For E.W.C., P/S-trap can be used considering the location. E.W.C. with S-trap is generally available in the. market.

Traps should be protected with small gunny bag pieces and then a coat of plaster of Paris should be applied to avoid choke-up due to other work activities.
WASH HAND BASIN (W.H.B.)
Wash Hand Basin is designed for washing the upper parts of the body.

Wash Hand Basin can be fixed with
'L' brackets: M.S./C.I.

J' brackets: M.S./C.I.

On pedestals
BRACKET FIXING


Check the size, length, etc.

Drill suitable holes for brackets in the wall, 

at the required level, with a drill machine 

punch. W.H.B. is generally fixed at 825 mm

from F.F.L.

Brackets should be fixed with 75mm screw 

and rubber plugs in position.

It is advisable to fix fasteners (75mm length) 

in slots of W.H.B. for better rigidity.
WASH HAND BASIN FIXING



Fix wash hand basin on firmly fixed bracket pair.

Additional screws should be fixed on the flat 

back of W.H.B. for ensuring complete fixity.

Half threaded waste coupling should be fixed 

with washer using tag and habak.

Either bottle trap or P.V.C. connection should 

be fixed for out-flow in G.I. outlet/ N.T.

Fix pillar tap to 

wash hand basin

 and connect it to the 

P.V.C. inlet pipe with stop valves to the 

water supply line. All connections should be

checked for possible leakages.

One Wash Hand Basin requires the following fit

tings and materials 

Wash hand basin – 1 No.

Waste coupling (half threaded 32 mm) – 1 

No.

Side brackets 2 Nos.

75mm screws/nails, rubber plugs, punch 

drilling machine.

15mm pillar tap – 1 No. (2 Nos. if hot and cold 

mixing arrangement is provided).

Angled stop valve 15mm -1 No. (2 Nos. if hot 

and cold mixing arrangement is provided).

C.P. bottle trap – 1 No. 

P.V.C. inlet 15 mm – 1 No. (2 Nos. if hot and 

cold mixing arrangement is provided).

P.V.C. waste pipe (flexible) 32mm dia -1 No.
(d) WATER CLOSET (W.C.)

Types of water closets

Indian style water closet (I.W.C.)

European style (E.W.C.)

Anglo-Indian type (A.I.W.C.)
1. INDIAN STYLE WATER CLOSET (OR SQUATTING TYPE)
Simple in construction and working.

The pan and trap are separate pieces.

The flushed water enters the rim of the pan 

through the opening provided in front/back 

of the pan.

Requires at least 10 liters of water for 

flushing.

Sizes available-> 580mm, 630mm etc.
2. EUROPEAN STYLE WATER CLOSETS
Either pedestal type supported on the floor or 

bracket type built in to and supported on the 

wall.

An efficient self-cleaning W.C.

The pan and trap (P or S) in one piece is best 

for use in the building.
3. UNIVERSAL ORANGLO-INDIAN TYPE
This is the combination of Indian and European type water closets.

One W.C. requires the following fittings and materials

Water closet = 1 No.
P-trap or S-trap 1 No.
P.V.C./C.I connector piece 1 No.
15mm bib tap 1 No.
Flushing system (Half turn flushing cock or low-level flush tank).

(e) SINKS
Porcelain and stainless steel readymade sinks are available in the market and can be used. Normally, built-in sink in cuddappa, marble, and granite can be made at the site, while doing the kitchen platform.

The sink is a shallow rectangular basin with a 

flat bottom. All internal angles are rounded 

for easy cleaning. The bottom slopes 

towards the outlet for the easy drain of water.

A full threaded coupling is used for the 

outlet, which is connected to the bottle trap 

or P.V.C. pipe.

The sink should be fixed at a height of 

585mm above the F.F.L.

One sink requires followings fittings and materials
Sink = 1 No.

Waste coupling full threaded 32mm = 

1 No.

P.V.C. waste pipe 32mm =1 No.

15mm C.P. bib tap (long arm) = 1 No.
(f) URINALS
The most commonly used urinal is 'BOWL URINAL'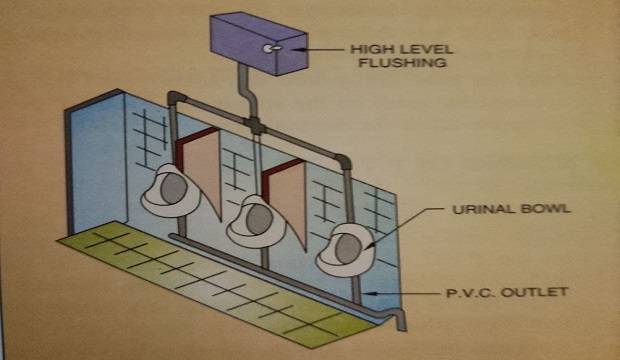 BOWL URINAL
Individual bowls are mounted on the wall as shown in the figure.

Bowls are fixed individually with/without division pieces between.

Material = Vitreous China
Size = Flat back 430 x 260 x 350mm (minimum)
Angle back 340 x 410 x 265mm (minimum)

Urinals are flushed by automatic flushing cisterns fixed above the urinal and discharging through a flush pipe.
The automatic flushing cistern is of 4.5 liter capacity per urinal and the cisterns can be adjusted to flush after. every twenty minutes.
One urinal requires the following fittings and materials
Urinal = 1 No.

Outlet horn coupling = 1 No.

P.V.C. outlet pipe 32mm = 1 No.

Flushing system 

1 No.
(g) BATHTUBS

Generally, bathtubs are made of vitreous earthenware

 or fiberglass. They are also available in 

P.V.C. or fiber reinforced plastic (F.R.P.) material 

with various designs and colors.

It is provided with hot and cold water connections 

and an inlet of 15mm dia each and an outlet of

32mm dia, connected to a waste pipe.

The waste pipe is connected to the main vertical 

stack through a trap, so as to prevent the entry 

of foul gases in the bathtub.

It is also provided with an overflow pipe to drain 

any excess water.

Usual dimensions of the bathtub are 1.80m 

1ength x 0.75m width x 0.45m depth.

Overall height with its feet is 0.60m.
(h) BIDET

Bidet is a sanitary fitting for washing the 

excretory organs.

It consists of a bowl or pan shaped with an 

integral pedestal base. Bidets are made of 

vitreous china.

Bidets are fit with an outlet of hot and cold water 

supply and spray (jet).

A 75mm seal trap is fit to the outlet and connected 

to the 32mm waste.
4. IMPORTANT GUIDELINES FOR JOINTS
(a) JOINING WITH P.V.C. TO P.V.C.
Cut the P.V.C. pipe with a fine-toothed saw to the 

required length.

Chamfer the edge of the pipe to be inserted at an 

angle of about 15° to 1/3rd the wall thickness, 

using a coarse file.

Make sure that the spigot and socket are 

thoroughly cleaned and are completely dry.
procedure jointing pvc pipes
Insert the pipe into the socket without the seal 

ring and mark along the pipe, after it is fully 

inserted.

Fix the rubber ring into the groove, without 

twisting it.

Apply to join lubricant to the chamfered end of 

the pipe, right up to the marking made on a spigot 

or to the socket end of the fitting.

Push the pipe firmly into the socket until the 

gap between the mark on the spigot and socket 

is about 10mm to allow for thermal expansion if 

any.
(b) JOINING OF P.V.C. TO C.I.

For joining P.V.C. to other materials, ensure 

that a rough surface (solvent cement base) is to 

be made on the P.V.C. pipe surface, before filling 

the gap with O.P.C. (ordinary portland cement).

Ensure the following for joining cast iron long 

arm nahani trap into P.V.C. plug tee.

Roughen the inside surface of the P.V.C. plug 

tee socket portion with a coarse emery paper.

Apply a thin coat of solvent cement inside the 

P.V.C. plug tee socket portion with a small 

brush.

Sprinkle some dry, medium-sized sand 

immediately over the solvent cement coat and 

let it dry for 5 minutes. 

This will give us a rough 

solvent base inside the plug tee socket for good 

bonding between the P.V.C. plug Tee and the C.I. 

nahani trap.

Complete the joint by filling the gap between C.I. 

nahani trap and P.V.C. plug tee with cement.

Important notes about solvent

Solvent cement is a petroleum-based product 

(flammable). Keep it away from fire and direct 

sunlight.

Solvent cement evaporates very fast if kept 

no open to sunlight and air. So, replace the lid of the 

solvent cement bottle immediately after use.
(c) JOINING OF CERAMIC TRAP TO P.V.C. CONNECTOR
For joining E.W.C. P-trap, use P.V.C., W.C. 

connector with lipring which is specially 

designed to make a joint perfect between 

ceramic and P.V.C. 

Place the rubber lipring over the socket portion 

of the E.W.C.

Apply rubber lubricant to the inside portion of 

the lipping and outlet of the E.W.C. P-trap. 

Then, fix the W.C. connector over the outlet of 

the E.W.C. P-trap. The joint is complete.

Adopt the above-mentioned method for joining 

Indian W.C. pan P-trap to P.V.C. straight W.C. 

connector.

For joining P.V.C. to P.V.C. (without rubber ring 

plain socketed ends), use solvent cement.

Wherever P.V.C. pipes and fittings are passing 

through R.C.C. or

should be made for P.V.C. pipes, for good bonding 

between P.V.C. and R.C.C. brickwork.

Joining of P.V.C. horizontal and vertical lines 

should be carried ou simultaneously, ie. 

horizontal lines from the nahani trap to the 

external wall face and vertical lines between 

floor to floor. 

The adjustment is not possible in 

P.V.C. if the work of laying for horizontal and 

vertical lines is carried out separately.
5. INCORRECT USAGE BY THE OCCUPANT

People tend to remove the cover mesh of the nahani trap and dump garbage in the trap. Though part of this is flushed away, greasy fibrous material sticks to the rough surface, leading to choke-up of the traps.

They also try to remove the blockage by rodding, 

which leads to the breaking of the P-trap nahani trap. 

Choke remover is recommended in such cases.

If eye covers (plug) are removed and not refitted 

properly, it leads to leakages.
6. PROCEDURE FOR GHABADI FINISH
After the connection of the internal pipework to the 
vertical stack, the hole should be properly finished 
as detailed below 
Ensure that the joint between fittings and pipe 

is complete.

A rich mortar should be applied on the periphery 

of the hole and around the pipe.

A suitable size of brickbats should be plugged in 

the mortar.

Again a rich mortar should be applied on the 

brickbats, ensuring that the surface matches 

the external wall finish.

Water-proofing compounds should be used in a

mortar to ensure impermeability against 

leakages. Curing in the usual manner should be 

continued for at least 7 days.
EXTERNAL DRAINAGE SYSTEM
The network of pipes laid for carrying waste and night soil from the vertical stacks to the septic tank or sewer main.

A network of pipes usually comprises of 10cm dia. pipes for a branch line from the gully trap to the first chamber and 15cm dia. pipes for the mainline. Subsequently, the diameter of the sewer increases from manhole to manhole, as per the increase in discharge.
1. TYPES OF SEWER PIPE
Usually, the following types of sewer pipes are used. They are available in various sizes.
Stoneware glazed pipes

Precast R.C.C. pipes

C.I. pipes
2. FIXTURES AND FITTINGS

(a) GULLY TRAP


Gully trap is made of stoneware clay. Normally 15cm 

x 15cm size is used.

The water seal depth is 75mm.

Used between sanitary fittings and the building 

drain.

Used for admitting surface water from the yard 

and paved walks into the drain.

A gully trap will disconnect a building from a 

building drain, by means of a 75mm water seal 

depth and thus prevent sewage gases from 

entering the building.

The top of the gully trap must be deep enough to prevent splashing over.

If planned carefully, sink and bath wastes can be discharged into one gully trap.

Gully trap is so fixed that its chamber top is above the ground level.

The chamber should be constructed on the gully trap. The size of the chamber should be 30cm x 30cm x 30cm.
(b) INTERCEPTOR (SEWER TRAP)

Stoneware intercepting sewer trap is used 

before a building drain is connected to the public 

sewer.

This trap has a water seal of about 10cm, which 

prevents the entry of objectionable, poisonous 

and harmful gases from public sewers into the 

building.

Intercepting sewer is provided at the extreme end of the building drain adjoining the boundary of the premises near the public sewer.

3. PROCEDURE FOR LAYING SEWER PIPES
Sewer pipes are laid beginning with their outfall

 ends towards their starting ends. The 

advantage gained in starting from the tail end 

(outfall) is the utilization of the tail sewers even 

during the initial period of construction. 

This 

ensures that the functioning of the sewage 

scheme does not have to wait until the completion 

of the entire scheme.

Mark proposed alignment on the ground by 

locating the different points along the alignment.

Locate the position where manholes/chambers 

are required, as per the drawing.

Slopes in excavation should be provided using 

the side rail and rod method.

Excavate trenches along the proposed alignment. The width

 of the trench at the bottom should be kept 

15cm more than the outer diameter of the 

sewer pipe. 

Lay sewer pipes between the two chambers or 

inspection chambers.

Keep the road passment position for the 

minimum crossing length of the sewer line.

R.C.C. Hume pipes are generally used for such 

crossings. 

10cm bedding concrete of grade M10 should be 

laid along the sewer line, up to half the depth of 

pipe which is called 'haunching', so that the 

sewer alignment is not disturbed. 10cm bed 

Concrete may be laid before the laying of sewer 

pipes.

Manhole/chamber should be constructed at 

different locations, as per the drawings.

Backfilling of trenches should be done immediately to avoid any accidents.

4. CONSTRUCTION AND FINISHING OF CHAMBERS (Inspection chambers)

GENERAL SPECIFICATIONS DETAILS
Size 45cm x 60cm (18″x 24″) or 45cm x 90cm (18″. x 36″), depending upon the number of pipe connections entering the chamber, for two pipe connections use one chamber of 45cm x 60cm and for more pipes, provide 45cm x 90cm size inspection chamber.

Location as per the drawing on the proposed 

alignment. 

Wall thickness 23cm (9″) of burnt bricks. 

Inside plaster smooth finished with extra 

cement in C.M. 1:4.

External plaster – sand-faced plaster in C.M. 1:4.

Gully Channel P.C.C. of grade M10, finished 

smooth with cement.

Frame and cover – frame to be fixed in 10cm (4″) 

thick P.C.C. of grade M10, before internal and 

external plaster.

Precast concrete covers for the chamber in the 

parking should be designed for vehicular loading.

Bottom level 15mm (1/2″) below the incoming 

flow and flushed to the outgoing flow.

Top of chamber same as the parking floor 

level road level.

5. CONSTRUCTION AND FINISHING OF MANHOLES (ROUND CHAMBERS)


GENERAL SPECIFICATIONS 
REQUIREMENTS DETAILS
Top diameter minimum 60cm (24″) clear.

Bottom diameter As per the depth of the 

sewer line from ground level.

Minimum 1.20m (for 1.5m (5′) depth).

Location – AS per the drawing on the proposed 

main sewer alignment.

Construction of the wall :

Up to 1.8m depth-> 38cm to 23cm.

More than 1.8m depth -> minimum 

thickness 45cm.

Provide C.I. steps at the required height as 

per the drawings.

Gully/channel – concrete of grade M10 should 

be laid in slope as 1:4, and finish smooth with 

e extra cement. 

Frame and cover – precast heavy-duty frame and 

cover.

Frame to be fixed in 15cm (6″) thick con

crete of grade M10, before internal and 

external plaster.

Plaster Internal plaster in C.M. 1:4 finished 

smooth, with extra cement.

External plaster in C.M. 1:4 rough finished 

for bottom half depth and trowel finished for 

the remaining depth.

The bottom level sloped as per the sewer line.

15mm ( 1/2″) below the incoming sewer flow.

Flushed with outgoing sewer flow.

Top-level same as the road level on roads.
CHECKING AND TESTING OF DRAINAGE 

AND PIPES
1. TESTS OF JOINTS
It is suitable for new drainage systems.

It can be carried out between two consecutive 

manholes chambers.

The lower end of the drain should be plugged with an 

expanding rubber stopper or with a flexible pneu

matic stopper.

The section of the drain under test is filled with 

water using a funnel, with approximately 60cm 

head above the highest joint.

The highest joint should also be plugged and the 

funnel passed through it.

Fill the water in the drain and leave for approximately 2 hours.

Check the level in the funnel. A subsiding water level in the funnel indicates leakage in the drain section.

Leaky joints or spots can be marked by more observation.
(b) AIR TEST
Here, the pipeline section under test is plugged 

on both ends, and traps are fully water-sealed.

Air is forced into the pipeline.

Air pressure is adjusted to maintain the water 

seals in the traps (i.e. 7.5cm).

Failure of the air to maintain 

water levels indicates leakage.

Suspected joints may then be coated with a soap 

solution. This helps detect the spot/leaky joint 

from where the air escapes.
(c) SMOKE TEST
It is suitable for waste systems, ventilating and 

soil pipes, and shallow drains in porous soil.

All traps and lower ends are fully sealed.

Smoke is introduced in the drain with a special 

machine or smoke rockets.

Any leakage of smoke indicates the exact loca

tion of leaky joints.
2. TESTING OF LINEARITY, VERTICALITY, AND SLOPES
Every drain pipe should have a proper slope to 

drain off the night soil or wastewater by gravity.

Vertical stacks should be truly vertical. They 

enhance the appearance of the building.

Horizontal sewer lines must be truly in line and 

at the required gradient, to maintain the smooth 

flow and to avoid the stagnation of flowing mate

rial.

All vertical stacks should be properly clamped. A sufficient

 number of clamps should be provided 

on each floor. height, to maintain the verticality 

of the vertical stacks.

All pipe joints and the respective fittings should 

be properly filled, to avoid leakage problems and 

the resultant maintenance.

Trap joints that are embedded in water-proofing 

should be done with lead joints.

The rest of the joints may be done with cement 

joints.

Use solvent solution joints for P.V.C. pipes.
CAUSES OF LEAKAGES
The vegetation growth seen on walls is the result of faulty plumbing.
When the joints of pipes or fittings are not filled properly, leakage and seepages occur through the joints or through cracks that develop around the fittings. 
This leads to fungal attack which in turn causes vegetation growth.
Faulty plumbing is the result of

The improper layout of the drainage pipelines or 

the choice of systems to be used is not 

correctly understood.

Improper execution is also one of the major 

causes of leakages.

Projections (burr) in traps or C.I. pipes where 

pieces of lints, pieces of cotton, match sticks,

etc. remain, may lead to choke-up of the pipeline

.

Besides, tiny cracks, holes in pipes, traps, and 

other fittings also cause leakages.

The connecting branch pipe should have a 

sufficient slope for self-cleansing velocity.

The slope may not be maintained due to the long length 

and restricted depth of the sunken portion. The branch 

pipe should have a minímum length.

The method of joining is also held responsible for 

leakages.

Many joints are linked to the network of 

pipelines. If these joints are not properly filled, 

leakages can occur.

To avoid leakages in floors where pipes are 

embedded, use lead joints, if possible.

The inner circumstantial face of nahani trap, if not 

finished properly, allows wastewater to percolate.
GENERAL PRECAUTIONS FOR 

DRAINAGE WORKS
PRECAUTIONS IN INTERNAL DRAINAGE
The branch pipeline should be provided with a proper slope, minimum bends, and outlets with minimum joints.

Bends should have a large radius.

Fittings like a tee, bend, Y' etc. should be provided with a clean-out or trap window at the proper locations in the pipe network.

Embedding pipes below the masonry or floor should be avoided. At least it should be kept to the minimum required length.
IF YOU LIKE THIS POST PLUMBING AND SANITATION WORK PROCEDURE – ITEMS, USED IN BUILDING CONSTRUCTION LIKE THIS GETTING GOOD INFORMATION SO PLEASE SHARE THIS POST-SOCIAL NETWORK EXAMPLE FACEBOOK, TWITTER SOCIAL MEDIA SITES SHARE IT.