Last updated on July 12th, 2023 at 08:27 pm
Aluminium sliding windows fitting in modern houses, aluminum is widely used for
windows. These windows are attractive, lightweight,
easy to fix and handle & maintain. 
Aluminium
sliding windows
procedure fixing
 can be classified as.

Aluminium windows are available in surface powder coating. Powder coating can be done in different colors. Aluminium windows without powder coating are also extensively used. ON THE BASIS OF THE DESIGN SURFACE FINISH
ON THE BASIS OF THE FUNCTION 

OPERATION
Aluminium sliding windows procedure fixing with big spans can be made three track or four-track, depending on the number of shutters used for the window. Aluminum louvered windows and top-hung windows are generally used for toilets. For doors and French windows aluminium, openable windows doors can be used instead of sliding one.

WORK PROCEDURE FOR FIXING / FITTING ALUMINIUM WINDOWS
Aluminium sliding window fixing is generally fixed after the internal and external plastering is over.
Following is the procedure for fixing.

Measure the plastered opening.
For fixing the aluminium window frames, the plastered opening must be exactly at right angles and the diagonals of the opening must be equal, otherwise, gaps are created between the window and the plaster.

According to the measurements, cut the aluminium sections for making the window on the site and fix it on the wall with screws.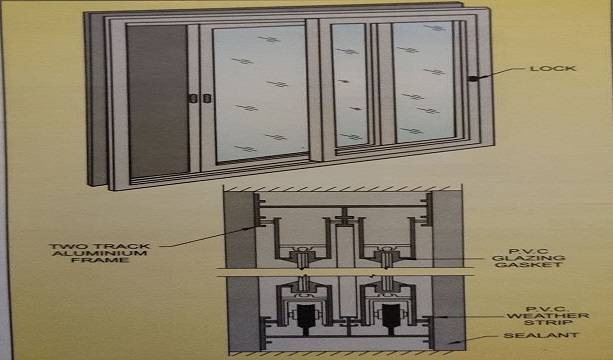 Ensure that the windows are erected such that the horizontal and vertical members are exactly in right angles.

Fix the shutters in the track of the window, after providing rubber packing on all the sides of the glass panel. These shutters slide because of the rollers attached at the bottom. generally, these shutters are completely glazed.

Check the sliding operation of the shutters for free movement.

Clean tracks with a vacuum cleaner or air blower.

The gaps formed between the walls and windows should be grouted with epoxy-based, rubberized compound e.g., tough seal or polysulphide using a grouting gun. 

If required, the M.S. aluminium grill should be fixed from outside for safety purposes.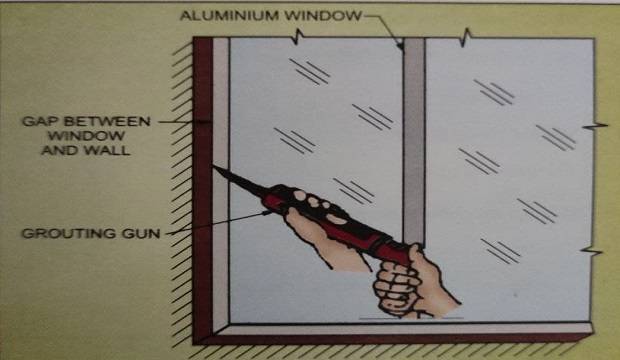 The right angle of the window

Diagonal of the window

Details of tracks as per the drawings

Gaps between the window and the wall

Holes in the tracks are inside or outside

Operation of the shutters

Provision of screws to all four sides of the windows

Cleanliness of the track

Any damages, cracks, dents, etc.

Covering paper

Sealant filling in gaps

Thickness of glass

Quality and defects of glass

Quality and operation of rollers

Handles and locking systems

The intactness

of rubber packing all around.
Also, Read This
IF YOU LIKE THIS POST ALUMINIUM SLIDING WINDOWS PROCEDURE FITTING – CHECKLIST LIKE THIS GETTING GOOD INFORMATION SO PLEASE SHARE THIS POST-SOCIAL NETWORK EXAMPLE FACEBOOK, TWITTER SOCIAL MEDIA SITES SHARE IT.