What are intelligent buildings
The field of intelligent buildings, intelligent homes, building management systems (BMS) encompasses an enormous variety of technologies, across commercial, industrial, institutional and domestic buildings, including energy management systems and building controls.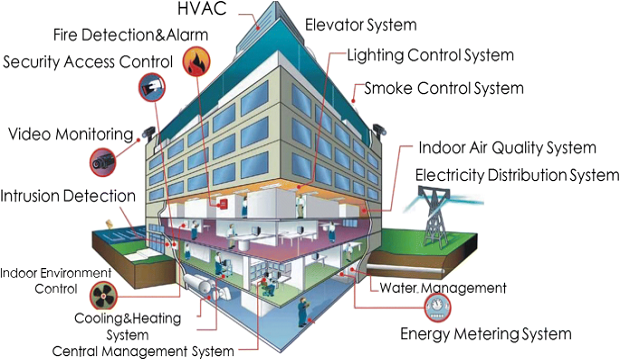 The function of building management systems is central to intelligent buildings concepts; its purpose is to control.
Monitor and optimise building services, eg., lighting, heating; security, CCTV and alam systems; access control; audio-visual and entertainment systeme, ventilation, filtration and climate control, etc.
Even time & attendance control and reporting (notably staff movement and availability).
The potential within these concepts and the surrounding technology is vast, and our lives are changing from the effects of Intelligent Buildings developments on our living and working environments.
The impact on facilities planning and facilities management is also potentially immense.
Any facilities managers considering premises development or site relocation should also consider the opportunities presented by Intelligent Buildings technologies and concepts.
The origins of Intelligent Buildings and Building Management Systems have roots in the industrial sector in the 1970s, from the systems and controls used to automate production processes and to optimise plant performances.
The concepts and applications were then adapted, developed and modularised during the 1980's, enabling transferability of the technology and systems to the residential and commercial sectors.
Explain building automation network in detail
Most building automation networks consist of a primary and secondary bus which connect high-level controllers (generally specialized for building automation, but may be generic programmable logic controllers) with lower-level controllers, device).
Input/output devices and a user interface(also known as a human interface The primary and secondary bus can be BACnet, optical fiber, ethernet, ARCNET, RS-232, RS-485 or a wireless network.
Most controllers are proprietary. Each company has its own controllers for specific applications.
What are intelligent buildings
Some are designed with limited controls: for example, a simple packaged Roof Top Unit. Others are designed to be flexible. Most have open protocol LonTalk.
proprietary software that will work with ASHRAE's open protocol BACnet or the Some newer building automation and lighting control solutions use wireless mesh open standards (such as ZigBee).
These systems can provide interoperability, allowing users to mix-and-match devices from different manufacturers, and to provide integration with other compatible building control systems.
Inputs and outputs are either analog or digital (some companies say binary). Analog inputs are used to read a variable measurement.
Examples are temperature, humidity and pressure sensor which could be thermistor,4-20 mA, 0-10 volt or platinum resistance thermometer (resistance temperature detector), or wireless sensors.
A digital input indicates if a device is turned on or not. Some examples of a digital input would be a 24VDC/AC signal, an air flow switch, or a volta-free relay contact.
Analog outputs control the speed or position of a device, such as a variable frequency drive, a I-P (current to pneumatics) transducer, or a valve or damper actuator. An example is a hot water valve opening up 25% to maintain a setpoint.
Digital outputs are used to open and close relays and switches. An example would be to turn on the parking lot lights when a photo cell indicate it is dark outside.
Discuss in detail about the Alarms and Security System in Buildings
Many building automation systems have alarm capabilities. If an alarm is detected, it can be programmed to notify someone. Notification can be through a computer, pager, cellular phone, or audible alarm.
Common temperature alarms are: space, supply air, chilled water supply and hot water supply.
Differential pressure switches can be placed on the filter to determine if it is dirty.
Status alarms are common. If a mechanical device like a pump is requested to start, and the status input indicates it is off. This can indicate a mechanical failure.
Some valve actuators have end switches to indicate if the valve has opened or not.
Carbon monoxide and carbon dioxide sensors can be used to alarm if levels are too high.
Refrigerant sensors can be used to indicate a possible refrigerant leak.
Current sensors can be used to detect low current conditions caused by slipping fan belts, or clogging strainers at pumps.
At sites with several buildings, momentary power failures can cause hundreds or thousands of alarms from equipment that has shut down. Some sites are programmed so that critical alarms are automatically re-sent at varying intervals.
For example, a repeating critical alarm (of an uninterruptible power supply in 'by pass) might resound at 10 minutes, 30 minutes, and every 2 to 4 hours there after until the alarme are resolved.
Security systems can be interlocked to a building automation system. If occupancy sensore are present, they can also be used as burglar alarms.
What is the scope of project of intelligent building? What is its purpose?
Project Scope: One of the first attributes in an intelligent design is to carefully evaluate the current and future use of the project.
This starts by clearly identifying the purpose and needs of the targeted building occupants. This process will vary depending on whether it be an owner occupied or a commercial development.
For an owner-occupied building, surveys and focus groups can be held with the building occupants, analyzing and prioritizing their needs to select proper project features.
For a commercial development, the project target market needs to be identified and attributes designed to suit.
For example, an office building might target technology companies that would benefit from an urban environment, high-speed network access, and 24/7 availability.
Project Purpose: It is important to realize, however, that few projects are used as originally envisioned. A good intelligent design should incorporate flexibility to allow for easy change.
Examples of this type of design characteristic include CLA (communications, life safety, automation), structured cabling design, and open space with movable or demountable partitions.
An intelligent building needs to be designed to meet the needs of initial occupants and be flexible to meet the needs of future occupants.
What are the various points to be kept in site selection and integration of intelligent buildings?
An intelligent design begins by looking at the site as it integrates with the community. Is this a location that is a new "green field" location, or a reuse of an existing "brown-field" site? Can the project be sited for maximum solar efficiency?
How will it fit in with community land and space planning? Does it integrate with existing (or planned) public transportation?
Site integration and impact are critical for environmental impact, and strongly affect how the building occupants interact with the building. At a macro scale, community integration is determined by community space planning and zoning regulations.
An intelligent building should go beyond that with consideration as to how this fits in with the community's needs, transportation, and amenities. The combination of the two makes the building more marketable with a lower impact on the environment.
Also Read This
What are the major sources of noise in different societies