1. READY MEXED CONCRETE PROCESS RMC

Ready mixed concrete process (R.M.C.) is the fresh concrete mix, which is produced by weigh-batching ready mix concrete manufacturing plant. under complete quality control and delivered duly mixed to the site of placement by truck-mounted agitators or dumpers.  
The batching plant may or may 
not be controlled by the authority constructing con
crete structures. The length of the 
distance up to 20km. If shorter, mixing concrete can be done 
at the manufacturing ready mix concrete plant or during transit.
When we have to place hundreds of cubic meters of 
high-quality concrete without any botheration, It 
can be achieved only by the 
ready mixed concrete process.
Types of Ready Mixed Concrete Rmc
Transit mixed concrete
Shrink mixed concrete
Central mixed concrete
1. Transit mixed concrete
The amount of mixing in the transit mixer depends upon the extent of mixing done in the central ready mixing concrete plant. Tests should be conducted to establish the requirement of mixing the drum concrete mixer.
2. Shrink mixed concrete
Concrete is partially mixed in the plant mixer and then balance concrete mixing is done in the truck-mounted drum mixer during transit time.
3. Central-mixed concrete
Is also called a central batching plant where the concrete is thoroughly mixed before loading into the truck concrete mixer. Sometimes the plant is also referred to as a wet batch or pre-mix or dry-batch plants. 
While transporting the mixed concrete, the truck mixer acts as an agitator only. Sometimes, when the workability requirement is low or the lead is less, non-agitating units or dump trucks can also be used in manufacturing ready mix concrete plants.
2. PROCEDURE OF READY-MIX CONCRETE PLANTS RMC
For the production of ready mixed concrete process India supplier, the following components are required.


CENTRAL WEIGH BATCHING PLANT
The plant where all the preliminary operations and tests are carried out is the weigh batching plant. The location of the plant will depend upon the distance of the quarry of aggregates and water supply etc.
CEMENT INPUT AND DELIVERY
For this purpose, a silo of a certain capacity (about 30t) is erected at the central manufacturing ready mix concrete plant.
For the storage of aggregates, three to four compartments are provided. These compartments feed the respective weight bins.
The capacity of the plant for a normal quantity of concrete Indian suppliers is about 20 to 30 cum. concrete per hour at an optimum level of operation.

At the crucial point in mix design, weighing devices are necessary. These devices are calibrated periodically.
The laboratory is the most important unit in the ready-mix manufacturing plant. This is provided for the mix design and for any changes to be made. Slump tests, cube tests, etc. are carried out here.
It is provided on the truck and rotates at a speed of 13 revolutions a minute and keeps the green concrete in an agitated state. During travel, it has facilities to mix water of measured quantity.
Pumping concrete saves a hugely human effort. During the casting of the slab, many laborers are required.

TEST CARRIED OUT ON READY MIXED CONCRETE RMC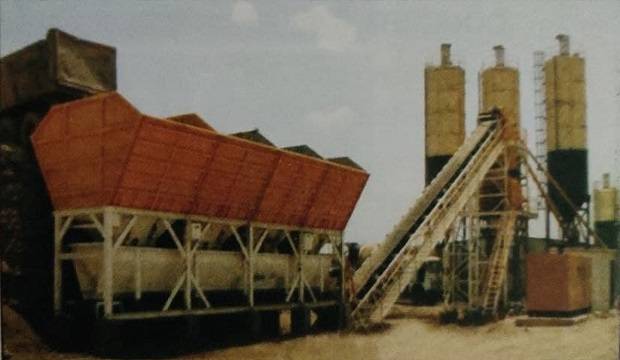 3. NEED OF R.M.C. AT SITE
There are many uncertainties in site mixed concrete such as.

Inferior quality of sand at the site with more silt 

content.

Aggregates received at the site may be oversized 

and due to an emergency cannot be refused, which 

ultimately affects workability.

Cement brands may differ.

Laborers are not available on the scheduled 

dates.

Corporation water is available only for a particu

lar time. So, extra provisions for water are to be made.

The mixer or lift may not be working properly, affect

ing the continuity of work.

The electricity board may suffer major breakdowns,

holding up the work.
From the above points, it can be concluded that ready mixed concrete procedure, price Pune is important when adopting and controlling the quality of concrete.
4. ADVANTAGES OF READY MIXED CONCRETE – RMC
Good quality concrete of uniform consistency 

under controlled conditions is produced.

Faster concreting is possible due to the automatic 

and continuous operation of the manufacturing ready mix concrete plant.

Supervision and labour costs can be reduced.

The storage of cement is eliminated. This is very 

important as cement reduces its strength if 

stored for a long time.

Wastage in cement handling is reduced.

Bulk procurement of cement at a central ready-mixing concrete

plant will be more economical due to.
Higher bargaining power

Smaller inventory

Bulk handling of cement avoids packing 

cost
When aggregate is stored on the ground, mixing 

with soil can be avoided with a central material manufacturing ready mix concrete 

plant.

Maintenance of a single unit is easier and more 

reliable than a number of machines working in 

scattered locations.

In the case of congested localities, storing materials 

and carrying out mixing operations is difficult. 

here, ready mixed concrete 

procedure, price

 India supplier is the best solution.

In the case of site mixed concrete, more labour force 

is required. This disturbs the reinforcement 

and can be avoided since for R.M.C. less labour 

is required.
What are the disadvantages of ready mixed concrete procedure plants?
If travel time increases concrete is damaged.

Increased water content in concrete is weak.

Communication is wrong than the upcoming concrete grade change. 

If the electricity problem than a plant can not work
IF YOU LIKE THIS POST-READY MIXED CONCRETE PROCESS – TYPES AND ADVANTAGES LIKE THIS GETTING GOOD INFORMATION SO PLEASE SHARE THIS POST-SOCIAL NETWORK EXAMPLE FACEBOOK, TWITTER SOCIAL MEDIA SITES SHARE IT.
Also, Read This
1. How much cement in a bag?
2. How much is ready mixed concrete per square meter?
Genrally 1m3 concrete 2400kg.
3. How much water do I add to ready mix concrete?
Average of 1m3 175 litters.
4. Is ready mix concrete good?
It is good for large projects but its strength is weak as compared to nominal mix concrete design.