Last updated on June 29th, 2023 at 10:23 pm
Quality consciousness is an important aspect of 
construction management, especially when it comes 
to building material quality testing and reporting procedure. 
In this article, we discuss various 
practical norms regarding this. 
Since the site engineer is directly involved with the receipts and use of materials, more weightage is given to the actual physicaltests to be carried out at the site. 

FREQUENCY OF BUILDING MATERIAL QUALITY TESTING AND REPORTING PROCEDURE
All materials received at the at should be tested 

for quality, The frequency of these tests (field 

laboratory) may vary as per the site requirements. 

The table shows the frequency of 

building material quality testing and reporting procedure for practical convenience.

which may vary 

or stick to the standard norms. It is advisable to 

conduct laboratory tests for an initial lot of every 

material or if there is a change of source/brand.
REPORTING PROCEDURE FOR BUILDING QUALITY 

MATERIAL
Detailed field tests should be carried out by the site 

engineer after receiving the building material quality testing and reporting procedure. 

The re

ports should be submitted to the Project Engineer 

in the prescribed format. The Project engineer should 

submit this report, along with his. remarks and 

signature, to the Head Office through the Chief 

Engineer.

In case of any rejections of material, a 

copy of the quality report should be sent to the 

purchasing department for further action. 

If the 

material is accepted, the copy of the quality report 

Pinous 

goes to the accounts department for clearance 

of payment to the supplier. 

The quality report should 

reach the head office along with the challans 

immediately after receipt of building material quality testing and reporting procedure.
Building Construction Materials Testing Quality Control Pdf Download Link Below

Frequency of material testing
 SR NO
 MATERIALS
 FIELD TEST
 LABORATORY TEST
(AFTER EVERYDAY/*)
 1
 CEMENT
 EACH LOT
 10,000 BAGS/*
 2
 WHITE CEMENT
 EACH LOT
 *
 3
 SANLA
 EACH LOT
 500 BAGS/*
 4
 LIME
 EACH LOT
 500 BAGS/*
 5
 STELL
 EACH LOT
 40 TONNES/*
 6
 METAL (12MM, 20MM,
25MM, ETC)
 EACH TRUCK LOT
 100th TRIP/*
 7
 SAND
 EACH TRUCK LOT
 200th TRIP/*
 8
 DUST / GRIT
 EACH TRUCK LOT
 9
 BRICK 4″, 6″
 EACH TRUCK LOT
 50,000 NOS/*
 10
 CONE ETE BLOCK
4″, 6″
 EACH TRUCK LOT
 15,000 BLOCL/*
 11
 ROUBBLE
 EACH TRUCK LOT
 *
 12
 BRICK BATS
 EACH TRUCK LOT
 *
 13
 MIRUM
 EACH TRUCK LOT
 *
 14
 WOOD
 EACH TRUCK LOT
 10 CUM (350CFT)/*
 15
 DOOR FRAME
 EACH LOT
 200 NO/*
 16
 DOOR SHUTTER
 EACH LOT
 200 NO/*
 17
 DOOR FITTING
 EACH LOT
 *
 18
 HARDWARE ITEM
 EACH LOT
 *
 19
 M.S.WINDOWS
 EACH LOT
 *
 20
 M.S GRILL/ RAILING
 EACH LOT
 *
 21
 ROLLING SHUTTER
 EACH LOT
 *
 22
 GLASS
 EACH LOT
 *
 23
 MOSAIC TILES
 EACH TRUCK LOT
 200,000 NOS/*
 24
 STONE (SHABAD,KOTA,
CUDDAPPA/TANDOOR)
 EACH LOT
 *
 25
 CERAMIC/GLAZED TILES
 EACH LOT
 *
 26
 MARBLE GRANITE
 EACH LOT
 *
 27
 G.I PIPES ( 15MM, 200MM)
 EACH LOT
 *
 28
 PVC PIPE  & FITTIING
 EACH LOT
 *
 29
 C.I PIPES ( 15MM, 200MM)
 EACH LOT
 *
 30
 A.C PIPE & FITTING
 EACH LOT
 *
 31
 S.W.C / R.C.C PIPES
 EACH LOT
 *
 32
 SANITARYWARE
 EACH LOT
 *
 33
 SANITARY FITTING
 EACH LOT
 *
 34
 ELECTRICAL ITEM
 EACH LOT
 *
 35
 MACHINERIES
 EACH MACHINE
 *
 36
 PAINTS
 EACH LOT/BRAND
 *
1. Flow chart of reporting procedure for quality of material
2. QUALITY REPORT
Material description.

Quality of material.

Supplier's name.

Challan No. with a date.

Details of trademark of material (if any). 

Name of the engineer who has checked 

the quality of the building material quality testing and reporting procedure.

Quality tests.
Quality tests report for cement
PROCEDURE OF REPORTING FOR REJECTION OF INFERIOR QUALITY MATERIAL
The inferior quality of building materials like 

sand, metal, dust, grit, etc. can be observed by 

visual inspection.

In this case, the storekeeper should inform 

the engineer for further confirmation.

The material should not be accepted and the 

purchasing department should be informed 

immediately.
WHEN QUANTITY IS LESS
If a full truckload of the material is received, 

the quantity can be observed by visual 

inspection.

If the quantity is found to be less, the fact 

should be brought to the driver's notice.

The storekeeper will take actual depth by 

inserting a steel rod in the material or by 

taking line Dori at the top Patti level.

If the driver confirms the difference between 

the quantity requisitioned and the quantity 

received, only then permission should be given 

for unloading.

The actual size of the truck and actual 

measurements received should be noted on 

the challan.

The driver should sign this challan as 

acceptance.

For materials that are accepted in numbers, a 

shortage in numbers should be mentioned on 

both the copies of challan.
WHEN INFERIOR QUALITY MATERIAL IS MIXED WITH GOOD QUALITY
At times, mixing of inferior quality material 

with the specified quality is observed after, 

unloading some quantity of the accepted 

building material quality testing and reporting procedure.

The storekeeper, in this instance, should 

decide the quantity of bad material in 

consultation with the Project Engineer, and 

record it accordingly.

Reduction in quantity should be notified to the 

driver and his signature should be taken on 

the challan.

The storekeeper should not 

20% bill should be deducted or 20% quantity 

was bad etc.
MATERIAL FOUND DEFECTIVE WHILE WRITING QUALITY REPORT
All discrepancies of material regarding the brand, 

size, quality, etc. should be clearly mentioned 

in the quality report.

The Project Engineer should clearly mention the

non-acceptance of quality. In case of 

clarification from the supplier, ask for his visit.

This quality report should go to the purchasing 

department with the Chief Engineer's remarks.

The purchase department will ask the supplier to 

visit the site.

The supplier has to make arrangements for taking 

back the material and necessary replacement.
FOR MATERIAL FOUND DEFECTIVE DURING AFTER WORK IS OVER, EVEN THOUGH GOOD QUALITY REPORT WAS SUBMITTED
The Project in-charge after a detailed inspection should write a clarification report with the exact nature of the defect, the reason for not reporting it earlier, the inadequacy of the material for the required work, and alternate solutions, if any.
This report should be submitted to the purchase 
department through the Chief Engineer, The 
Purchase Manager along with the supplier 
should visit the site and ensure that the 
supplier makes necessary arrangements for the 
replacement of the defective materials.
FOR MATERIAL SUPPLIED AT SITE 
WITHOUT OBSERVING SITE RULES
Suppliers, at times, unload the material at the site without observing site rules and insist for challan eg. after the store is closed, on holidays, dump the material at unwanted locations for own convenience, do not accept the shortage in quantity, etc.

In any such case, the storekeeper should not sign the delivery challan.
If the supplier unloads the material without permission then it should be reported to the H.O. on the "Clarification Report".

Information on such incidents can also be given to the purchase department telephonically.


QUALITY TESTING
 OF BUILDING CONSTRUCTION 
MATERIALS AT SITE 
1. SOIL
During excavation, it is necessary to check soil samples and finalize the bearing strength. Stratas at different levels are

RED SOIL

Red in color, absorbent in nature, turn to clay when it is dry and forms a hard lump that is not easily breakable. It cannot be powdered by applying finger pressure.

Termed as good soil – approximately safe loading is 30 tonne/sqm (30 T/sqm).

BLACK COTTON SOIL
Greyish black in color, heavy clay content. Swells when wet, shrinks when dry, develops heavy cracks, termed as poor soil. Approximate safe loading is 5 to 10 tonne/sqm.

SHADU

It is yellowish/whitish brown. A soil intermediate between clay and sand. Wet shadu contains moisture but when it is dry it may possess appreciable cohesion. However, its lumps are easily broken with finger pressure.

Termed as moderate soil. Approximate safe loading may be considered as 10 to 15 T/sqm.

BEARING CAPACITY OF SOIL
The bearing capacity of soil can be tested at the

site as per standard test procedure.

A pit is excavated up to the strata that need 

to be tested.

The bottom of the pit is leveled, the bearing plate is kept and load is applied.

The load applied is normally four times the proposed design load. The settlement is recorded every 24 hours until no settlement occurs in 24 hours.

The settlement under the test load should not be more than 20 mm.

Loading can be done by using cement bags or sandbags.
2. MURUM

It is red-brown in color, of irregular shape and size, and does not contain moisture when wet. Dry compacted deposits are treated as strong strata.

Approximate safe loading is 20 to 46 T/sqm.

3. ROCK
It is the lowermost layer of strata with immense strength.

Safe loading for soft rock varies from 20T/sqm to 90T/sqm and above and that for other rocks from 100T/sqm.

4. CEMENT

FRESHNESS TEST


Choose any bag at random. 

Check the printed manufacturing date.

It is given as W-for week, M-for month, and 

Y-for year.

It should not be more than 30 days old.
SMOOTHNESS TEST
Open the cement bag from one corner. Take a pinch of dry cement and rub between the fingers. It should feel silky.

FLOATING TEST
Take a clean measuring glass jar.

Fill the jar with clear water.

Take some dry cement and add it slowly 

to the water.

Good cement floats for a while and then 

sinks slowly to the bottom.

Any lightweight impurities may remain 

floating even after the cement sinks. 

Heavier impurities sink immediately.

The quality of cement can be affirmed by 

the floating test.
LUMP TEST
Take any cement bag at random and test 

It for the presence of lumps.

Fresh cement should be in powder

form only.

Any cement bag with lumps should be 

rejected.
CUBE TESTING ON SITE
Prepare 5cm x 5cm x 5cm cube of cement 

paste.

Plastic or tin boxes can be used for this purpose.

Place the cube in water Immediately.

After 24 hours the edges of the cubes should 

remain sharp and should gain some 

strength.
5. STEEL

HARDNESS TEST


Take I'm length from each diameter of 

bars belonging to different lots. Bend the 

bar by applying pressure at both ends with 

your hands.

Observe the bent portion, It should be 

smooth.

If the steel is not of good quality, it may 

break or develop cracks on the bent 

surface. Such steel should be rejected.
WEIGHT CHECKING
Take exactly the 1-meter length of each 

diameter of the bars on a random basis.

Weigh each sample on a weighing scale.

Compare the weights with the theoretical 

weights given.

The difference in weight should not be 

more than 5%.
6. SAND
TEST FOR BULKING OF SAND


Take 250 ml. glass cylinder.

Fill up with damp sand up to 200 ml. 

mark.

Slowly pour some water. The sand settles 

to its actual volume which is less than 

200 ml. Mark this level. Let us assume 

that it is Dml.

Then Bulkage is calculated by using the 

formula

% bulkage  =  

200 – D/D   

X 100

This bulking of sand should be known for 

proper correction to be applied when

calculating dry sand requirements.
SILT CONTENT OF SAND
Take a clean. 200 ml. measuring cylinder.

Fill with sand up to a certain mark ( say the 

reading is X). Add water above it up to 200 

ml. and shake well.

Allow a period of 2 hours for settlement.

Clean sand will settle at the bottom with 

silt and clay impurities on top of the sand 

layer.

Now observe the top-level reading for sand. 

Assume that it is Y. Then the silt contains.

% silt content =x-y/x 100

Total silt content should not be more than 7% 

for good quality sand.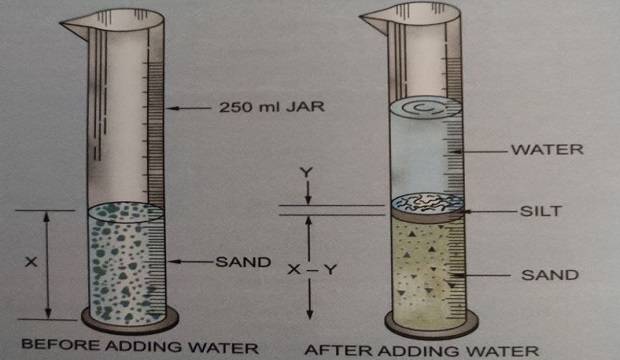 ORGANIC IMPURITIES
Observe the sand while unloading the 

truck.

Visual inspection shows colored particles 

other than sand such as shells, gravels, 

lime impurities, etc.

This should not be more than 1% of the 

total sand received.
7. METAL

WATER ABSORPTION TEST
After unloading metal, collect small 

quantities of metal from different parts of 

the heap.

Mix these quantities and take exactly 2 Kg 

of metal in a container.

Add clean water to totally submerge the 

metal.

Let it be submerged for 24 hours.

Weigh the wet metal. The weight will be 

more than 2 Kg. Note down the difference in 

weight. Calculate the absorption by the 

following formula. 

% Absoption = 

Difference in weight/

Original weight  

X 100

For metal to be used in concrete work, water 

absorption should not be more than 5%.
8. BRICKS BLOCKS 

WATER ABSORPTION TEST
Select 3 Nos. of bricks/ blocks of proper size and shape at random.

Weigh each sample and note it down as

 Take the average as = W1+W2+ W3/3
Submerge the samples in water for 24. hours. Weigh the wet samples again as W1, W2, W3. Take the average
W1+W2+ W3/3.

Calculate the % absorption by the formula.


% Absoption   = Difference in weight / Original weight x100
For a good quality brick, this value should not exceed 20%.

Water absorption of concrete blocks should not exceed 10%.

STRENGTH TEST
Choose a brick/block at random from the 

stacking. Hold t straight in one hand up 

to a height of 60 cm for brick and 90 cm f

or the block.

Drop it on a flat surface. A good brick should 

not break.

If any breakage is noticed, the lot should 

be immediately rejected.

In the case of the block, it should not break at 

all. Even corners and edges should remain 

intact.

This testing of blocks should be done after 

the curing period is over.
9. SANLA
Normally sanla is not put to immediate use atter receipt, So, the following test should be done to confirm it's quality.

CONSISTENCY TEST 
Choose one bag of sanla, Remove 2 trowels 

of sanla in one ghamela.

Slowly add water to get a paste of proper 

consistency.

Check this by rubbing between fingers. 

Good sanla will have a smooth feeling.

Inferior sanla will not give a consistent 

paste and will be rough to touch. Such a 

lot should be rejected.
STRENGTH TEST
If the consistency is good, use the paste to prepare a 5cmm x 5cm x 5xm cube.

Allow it to set for 24 hours. Remove the cubes. The cubes should not crush easily into powder.

10. FLUSH DOORS

TEST FOR BENDING
Choose a flush door at random, Check that there is no bend or twist.

Place the shutters on the flat face, on raised. block pillars with no other support for 24 hours. Check for any bends. A good quality 
the shutter will not bend.

11. MATERIAL QUALITY TESTING AND REPORTING WOODEN DOOR FRAME
TEST FOR BENDING
Choose any door frame. Check that all the dimensions and diagonals are proper and there is no bend or twisting in its members. Check the rigidity of all the bracings that are provided.

Keep the door frame in a horízontal posítion on the supports raised by 60 cm above the ground level for 24 hours. Recheck for bending and diagonal etc. A good door frame will retain its shape without any changes.

12. MOSAIC TILES

WATER ABSORPTION TEST
Choose three tiles at random.

Take the initial weight and submerge them

 in water for 24 hours.

Weigh the wet mosaic tiles and note down 

the difference in weight.

Absorption  =   

Difference in weight / 

Original weight 

X 100

This should not be more than 10% for good-quality

 mosaic tiles.
TEST FOR STRENGTH
Choose a mosaic tile and check it for any 

cracks or bends.

Simply support the tile at four corners and 

apply the force in the middle and see the 

results.

Well-cured tile will not break easily.
Also, Read This
IF YOU LIKE THIS POST BUILDING MATERIAL QUALITY TESTING AND REPORTING PROCEDURE LIKE THIS GETTING GOOD INFORMATION SO PLEASE SHARE THIS POST-SOCIAL NETWORK EXAMPLE FACEBOOK, TWITTER SOCIAL MEDIA SITES SHARE IT